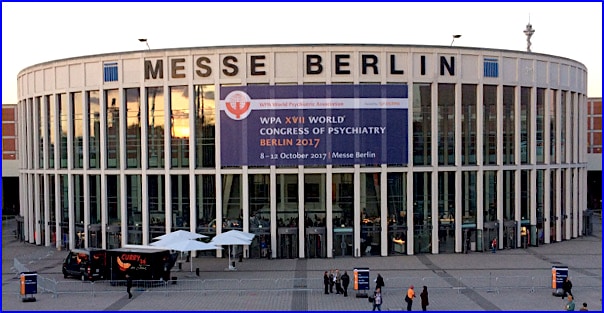 Nicole Avena, Ph.D., is a research neuroscientist and molecular biologist who has published more than 75 journal articles; co-authored Why Diets Fail; and written What to Eat When You're Pregnant. She regards sugar as addictive, and at the Congress gave a presentation titled "Evidence for addiction-like responses to highly palatable foods, and how findings could inform obesity treatment methods."
The idea that psychiatrists and psychologists should "own" obesity may not be accepted in some circles, but the magazine Psychology Today seems fine with it, as shown by the fact that Dr. Avena's column "Food Junkie" has frequently appeared in its pages. She is apt to say:
The overlaps between drug addiction and obesity have been uncovered, both in terms of behavior and brain changes. For example, studies show that when obese people are shown images of foods they desire, their dopamine system is activated as if one were showing drug stimuli to a drug addict.
Introducing this speaker at his WPA Symposium, Dr. Pretlow described her as having "a novel theory that the eating disorders field is resistant to considering obesity as an eating disorder because ED professionals do not like telling people to restrict what they eat." Obesity, eating disorders, and addiction invade each other's territory all the time.
The idea is that if the profession could be accepting of the food addiction construct, a lot more troubled people would currently be receiving treatment. Under a constant onslaught of toxic chemicals, the human brain undoubtedly undergoes changes, but that is not the whole story. When behavior-modification methods are able to treat both drug addictions and food addictions, the smart thing to do is to use them.
Great minds think alike
On the Symposium's audio track, Dr. Avena's talk begins at 3:15 and covers a lot of information about animal research and the physiological similarities between drug addiction and food addiction. She speaks of looking at overeating "through the lens of addiction," which recalls Dr. Pretlow's phrase, "the psychological food dependence-addiction lens."
Although many factors contribute to obesity, the food that is available to people has a great deal of mischief to answer for. This is particularly true of highly processed "hedonic" food which is created to service the recreational eating market and has very little connection with nutrition.
The hazard is complicated by the fact that sugar is so cleverly hidden behind euphemisms and inside of food products that might never have been suspected of smuggling it into vulnerable human bodies. Of course it is also found in very obvious places, like holiday candy, which is out segue into…
HALLOWEEN ALERT!
Childhood Obesity Halloween Prep
An Early Start on Halloween
Get the Jump on Halloween!
Halloween Preparedness Starts Now
Halloween's Inexorable Approach
Your responses and feedback are welcome!
Source: "Feeding Your Addiction," PsychologyToday.com, 09/06/17
Image: Messe Berlin by Dr. Pretlow