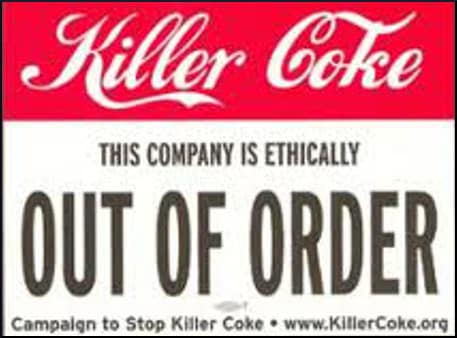 It would have been nice to go back to ignoring the Coca-Cola Company for a while, but it is such a busy corporation, the notices keep piling up. Regarding 2015, the final quarter alone provided plenty of fodder for criticism as the company appeared to be making payoffs in return for good publicity and reduced opposition to its less savory activities.
This company manufactures more sugar-sweetened beverages (or SSBs) than any other, and has been implicated in the rise of obesity and horrendous dental outcomes, all over the world. A lot of Americans didn't realize that the American Academy of Pediatrics (AAP) was on the take until Coke's public relations department thought it was a good idea to publish a brag list in which…
[…] the company released a detailed list of nearly $120 million in grants, large and small, given to medical, health and community organizations since 2010…
Over a six-year period, the AAP accepted almost $3 million, much to the dismay of some member physicians who were never comfortable with the arrangement. It was not the only venerable medical organization to benefit from Coke's largesse, good heavens, no. Among others, there were the American College of Cardiology, the American Academy of Family Physicians, the American Cancer Society, and the Academy of Nutrition and Dietetics.
For The New York Times, Anahad O'Connor noted that…
[…] the soda grants appear to have, in some cases, won the company allies in anti-soda initiatives, wielded influence over health recommendations about soft drinks, and shifted scientific focus away from soda as a factor in the causes of obesity.
Of course, no group would admit that receiving an allowance from Coke could possibly change its views, opinions, outlook, or recommendations to the public on such topics as, for instance, whether any sane person would drink SSBs or allow their children to do so.
It is tempting to look at such financial dependency another way. If this corporation is responsible for a substantial chunk of the obesity epidemic, and all the consequent medical misery, why not let them, by helping out deserving professional and public service groups, foot the bill to repair a small fraction of the damage? That is an argument for someone else to make.
It did seem as if research, especially research funded by Coke, was coming up with more SSB-friendly results. Suddenly, the main obesity villains were revealed to be lack of exercise, sleep deprivation, and too much screen time.
Eventually, last fall, the AAP did sever its relationship with Coke, announcing that it no longer shared the same values, and glossing over the question of why it ever did. The Academy of Nutrition and Dietetics also bowed out and allowed its financial relationship with Coke to "expire."
The Global Energy Balance Network
One factor in the severing of these ties was the revelation that a certain nonprofit organization was covertly funded by Coke. The Global Energy Balance Network put up a website that "urged Americans to exercise rather than watch what they eat and drink," wrote Hank Cardello for Forbes.com.
Cardello has a unique perspective on what Coke has really been doing wrong. It is not the publishing of fibs about the causes of obesity that is the problem, nor the advertising to vulnerable children, the awkward pandering to minority groups, or the attempted subversion of some of the medical profession's most august organizations.
No, from where he stands, the big problem is that Coke spends too much energy on promoting classic Coke and not enough on promoting its diet soda, "enhanced" water, and sports drinks. And the new, smaller cans.
Your responses and feedback are welcome!

Source: "Coke Spends Lavishly on Pediatricians and Dietitians," NYTimes.com, 09/28/15
Source: "Shame Is A Losing Strategy For Both Coke And Its Attackers," Forbes.com, 09/29/15
Image by KillerCoke.org