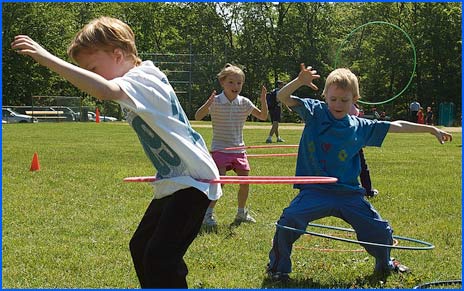 Childhood Obesity News has been talking about what some call physical literacy, especially as it applies to school curricula. This is from researchers at the Georgia Health Sciences University, by way of ScienceDaily. The team wanted to look at a batch of 171 overweight kids (ages 7 to 11) and show that physical education in schools is a necessity. In science, rooting for a result is generally frowned upon. Research is supposed to be impartial.
But no health care professional can be blamed for seeking a solution that helps kids to have better attention spans, behave well in classrooms and other social settings, and generally make better decisions about their lives. For starters, more of them might stay in school rather than dropping out, and avoid a certain amount of trouble along the way.
Alleviating those problems is a worthy goal. One of the authors, Dr. Catherine Davis, is quoted:
I hope these findings will help reestablish physical activity's important place in the schools in helping kids stay physically well and mentally sharp. […] For children to reach their potential, they need to be active.
All the children involved in the study had very sedentary lifestyles when the study began. They were tested for math and reading skills, and general thinking ability. For three months, some engaged in vigorous physical activity for 20 minutes a day, and some for 40 minutes a day. The examples given are running games, jump ropes, and hula hoops. They were academically tested again and some were scanned with magnetic resonance imaging technology.
Dr. Davis, who is a clinical health psychologist at the Georgia Prevention Institute, said this about the findings:
MRIs showed those who exercised experienced increased brain activity in the prefrontal cortex — an area associated with complex thinking, decision making and correct social behavior — and decreased activity in an area of the brain that sits behind it. The shift forward appears consistent with more rapidly developing cognitive skills.
Not only that, but more exercise translated into better test scores in math skills. The 40-minutes-per-day kids did better than the 20-minutes-per-day kids. Strangely, no improvements were noted in reading skills. ScienceDaily says:
The researchers hypothesize that such vigorous physical activity promotes development of brain systems that underlie cognition and behavior. Animal studies have shown that aerobic activity increases growth factors so the brain gets more blood vessels, more neurons and more connections between neurons. Studies in older adults have shown exercise benefits the brain and Davis's study extends the science to children and their ability to learn in school.
But what does this have to do with childhood obesity? Maybe quite a lot. Experience tells us that kids who get better grades also gain some self-esteem. Kids who can figure out common-sense dilemmas and get along with their peers are likely to have more self-confidence. A confident kid is less likely to fall prey to eating disorders, which are notoriously emotion-based. A capable and socially competent child is on a good path, one that is unlikely to lead to food addiction. When qualities like a longer attention span or better impulse control can be cultivated by such simple means as 40 minutes of hula-hooping, there is room for hope.
And no laughing at the hula hoop. Please enjoy an exhaustive report on the joys of hooping, by four different Huffington Post correspondents. Here is just one tidbit:
You might not think the child's toy could provide much of a workout, but an independent study of hooping from researchers at the University of Wisconsin, La Crosse sponsored by the American Council on Exercise (ACE) found hooping burns seven calories a minute, for a total of 420 calories an hour. And that's before taking into account the dance moves or strength-training exercises…
Your responses and feedback are welcome!
Source: "Exercise Helps Overweight Children Think Better, Do Better in Math," ScienceDaily, 02/10/11
Source: "We Tried It: Hoopnotica," The Huffington Post, 06/07/12
Image by qwrrty (Tim Pierce), used under its Creative Commons license.