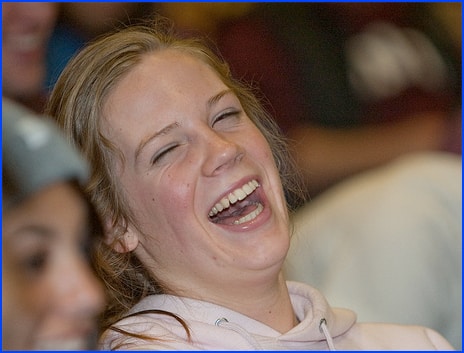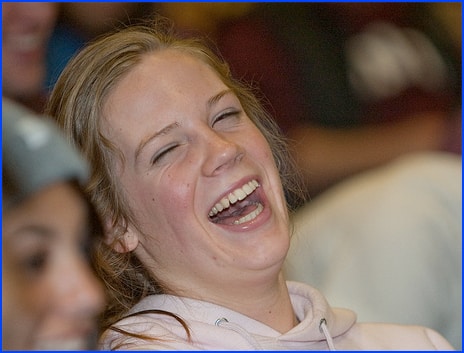 An onion can make people cry but there's never been a vegetable that can make people laugh.
Will Rogers said that. What does it have to do with childhood obesity? Nothing. It's just an example of one type of funny, something that brings on a giggle because even though you never thought of it that way before, it's true. Other things are funny because they are such blatant examples of baloney, you have to either laugh or cry.
Like the outpourings of the American Beverage Association's public relations department. For example, a press release titled "American Beverage Association Shows Beverage Industry is a Good Part of America":
Our industry's self-regulation has demonstrated success and will continue to improve the health of children nationwide.
Anyone who doesn't get a chuckle out of that hasn't been paying attention. Now, here is something worth getting emotional about. After all the hard work done by so many dedicated people to boot sugar-sweetened beverages out of schools, studies are coming in with a disheartening message. They're saying it doesn't make any difference. Banning soft drinks from schools doesn't help.
Last November, the journal Archives of Pediatrics and Adolescent Medicine dropped a bomb on the anti-obesity movement. Here is the bottom line, eloquently and succinctly told by Karen Kaplan in the Los Angeles Times:
Students in schools that limited sales of soda and other sugary beverages on campus consumed just as many of the drinks, overall, as students in schools without any such restrictions.
The information for the shocking study was collected from 5,900 students whose health histories were had been carefully tracked since 1998. Kaplan writes:
The researchers looked at 40 states; 22 of them had no policy governing sales of sugary drinks in middle schools, 11 forbid sales of soda only, and seven banned all manner of sugar-sweetened beverages, including sports drinks and fruit drinks (but not 100% fruit juices). In all three categories, the prevalence of obesity was essentially the same, ranging from 22.3% to 22.6%.
It gets worse:
Surprisingly, students who were subjected to some kind of sugar-sweetened beverage rule at school were actually more likely to consume sugary drinks on a daily basis.
Yes, more likely. Speaking of this same research, originating from the University of Illinois, the New York Daily News said:
While bans may reduce in-school access, the latest study suggests kids are actively finding other ways to access sugary drinks. The results of the survey also suggest that schools and public health authorities need to develop more comprehensive anti-obesity strategies that go beyond simply imposing a blanket ban on soda.
Also in regard to the same study, Cindy George of MedBlog reported:
Texas researchers reached a similar conclusion about sweetened drinks in a childhood obesity report for the state's nonprofit children's hospitals… The state set policy on the drinkable-calories-on-campus issue about a decade ago. After limiting foods of minimal nutritional value (FMNV) available on Texas public school campuses in 2003, the state further curbed access in 2009 to soda and other treats during school hours.
Julie Deardorff gives the soda pop industry its props when she writes:
… [A]fter losing battles at the local and state levels, manufacturers supported federal action to remove sugary drinks from schools. Coca-Cola and PepsiCo are aggressively funding physical activity programs and reformulating certain products to reduce the salt, fat and sugar content. PepsiCo scientists are working on ways to reduce sodium content in products; Coca-Cola was a leader in new calorie labeling.
Then, she goes and spoils it by quoting public health attorney and Appetite for Profit author Michele Simon, who says:
Food companies are masters at turning criticism into marketing opportunities and at getting us to give them credit for addressing problems they created in the first place. They work by co-opting the conversation.
Deardorff interviewed another expert, Corinna Hawkes of London's City University, who specializes in public health and food policy. She believes that a Coca-Cola logo on the website of the American Academy of Pediatrics is "totally inappropriate." Because its presence there implies endorsement and sends a subliminal message that sugar-sweetened beverages are good, Hawkes is quoted as saying that it:
… obscures the broader message that children and families should reduce their intake of full-calorie soft drinks.
And that's not so funny.
Your responses and feedback are welcome!
Source: "Beverage Industry is a Good Part of America," PR Newswire, 10/24/11
Source: "Schools' soda bans don't stop sugary-drink consumption, study says," LA Times, 11/07/11
Source: "School soda ban ineffective in fight against childhood obesity, according to study," NY Daily News, 11/11/11
Source: "Reports: School soda bans do little to cut overall consumption," blog.chron.com/medblog, Nov. 2011
Source: "Critics pounce on Coke, Pepsi health initiatives," Chicago Tribune, 02/04/12
Image by nmhschool (NMH webmaster), used under its Creative Commons license.