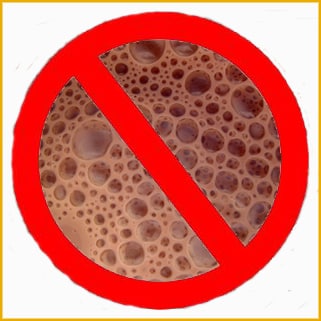 Will it never end? Sometimes it seems as if, in the effort to quench the obesity epidemic, nothing is ever quite nailed down. Chocolate milk, for instance. To think about how many hours of debate have been spent on chocolate milk, is to cringe. In some places, the step of removing it from school menus and/or vending machines has already been taken.
What's the problem? Well, for starters, they sell chocolate milk at McDonald's, and as a general operating principle of life, just about anything you can get at McDonald's will pretty much clash with the healthy-choices theme.
In Overweight What Kids Say, Dr. Pretlow writes,
Removing high pleasure additives from food is also a way kids get unhooked, such as breads without added sugar, or low fat milk instead of chocolate milk. Mixing chocolate and low fat milk or regular and low fat milk together is a way to gradually change. If kids can get unhooked from just a few foods, with which they have the most problems, this may result in significant weight loss.
Remember the historic day when an article titled "Neural Correlates of Food Addiction" declared that food addiction is real? The experiments that proved it involved chocolate milkshakes. The brain scans of food addicts thinking about chocolate milkshakes look just like the brain scans of cocaine addicts contemplating lines of white powder. For now, that's the best evidence we have to go on, and it's pretty convincing.
Yet, the National Dairy Council has spoken in favor of chocolate milk in schools. Jeanne Sager tells us that the "Raise your hand for chocolate milk" campaign was:
[…] meant to point out that milk — even with chocolate flavoring — has some redeeming value where soda has none.
Some redeeming value! Now, there's a powerful endorsement. Along comes Dairy Herd Network, whose associate editor Megan Pierce says flat-out that there are no studies linking childhood obesity and chocolate milk. Pierce speaks of "unintended consequences," the shadow side of every ambitious project. She tells us that there is nothing wrong with chocolate milk and that banning it could indeed be inimical, because without it, kids won't get enough calcium and vitamin D.
On the other hand, as one of the comments to the story puts it,
Chocolate milk is soda in drag.
Another confusing thing: The 2011 " Legal Strategies in Childhood Obesity Prevention: Workshop Summary" says that one of the key presenter messages was,
Increasing the price of a product, limiting per capita purchases, banning or limiting harmful products or ingredients, and instituting age limits on the sale of a product have all yielded benefits with other products and could be applied to foods.
On the other hand, Michelle D. Bernard has nothing but unkind words for the Interagency Working Group on Food Marketed to Children (IWG), which she characterizes as:
[…] an overzealous cadre of federal regulators… engaged in an egregious and unconstitutional regulatory power grab.
The IWG's job, assigned by Congress, was to study childhood obesity in relation to the marketing of foods to kids. Bernard scoffs at the results:
It proposed 'voluntary' guidelines now being considered that will undermine parental authority, place a so-called 'voluntary' marketing ban on the marketing of numerous healthy foods like cereals and yogurts to children, and inflict economic harm on American consumers, American agriculture and the food industry, among many other sectors of the American economy.
Bernard also speaks of unintended consequences, giving elaborate examples from previous attempts at what she considers to be unwarranted social engineering. And, there is more:
As it stands, the government doesn't have to prove that its 'voluntary' guidelines are an effective way to combat childhood obesity… Worst of all, they do nothing to help the poor or those living in underserved communities and who are the most at risk of obesity. They don't address issues like eradicating food deserts, access to affordable and healthy food, or promoting physical fitness in the war against childhood obesity.
Here is Bernard's parting shot:
Besides, there's already a simple and effective guideline in place for kids: moms and dads know best.
If only it were so! But, sad to say, the belief that moms and dads always know best is naive and dangerous. If parents always knew best, we would be in nowhere near this big of a mess. If parents always knew best, we would wake up to the reality of food addiction, in ourselves and in our kids, and act accordingly.
Your responses and feedback are welcome!

Source: "Industry Pushes for Chocolate Milk in Schools," Babble.com, 11/10/09
Source: "Is chocolate milk ban-worthy?," Dairy Herd Network, 08/30/11
Source: "Legal Strategies in Childhood Obesity Prevention: Workshop Summary," books.nap.edu
Source: "The slippery slope of 'voluntary' guidelines," The Hill's Congress Blog, 08/24/11
Image by Erik Mattheis, used under its Creative Commons license.