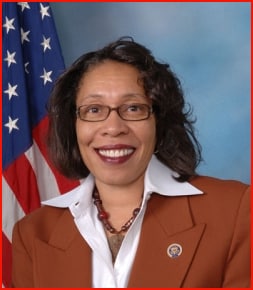 In July, U.S. Congresswoman Marcia L. Fudge introduced House Resolution 339 that would designate September 2011 as the second annual National Childhood Obesity Awareness Month (COAM), as seen in this short announcement. It was she, along with U.S. Rep. Kay Granger, who originated this legislation in the House the first time around, backed up by U.S. Senators Kirsten Gillibrand and George Voinovich.
Meanwhile, the tradition will carry on with or without Washington's blessing. The website Healthier Kids, Brighter Futures says,
Every September, National Childhood Obesity Awareness Month (COAM), gives elected officials, educators, physicians, and you the opportunity to take a stand and fight childhood obesity.
Concerned Americans are invited to download the Toolkit, a PDF 15-page file for community activists. They go on to assess the importance of COAM:
The first-ever National Childhood Obesity Awareness Month in September 2010 drew important public attention to the issues surrounding childhood obesity and made an impact in reducing the prevalence of the epidemic. This year, we're doing even more to spread the word to communities throughout the U.S. and encourage children to be active and eat healthy.
It is interesting to look back over the progress since last September. Awareness has been raised, and so has backlash. Refined, processed, and packaged substances that go by the name of "food" have increasingly provoked suspicion and come under scrutiny. Cities, counties, and states are trying out both prescriptive and proscriptive solutions to the childhood obesity problem. Some schools make gardening and nutritional literacy the centerpieces of their curricula, while others vigorously expunge junk food from their cafeterias and vending machines, and impose strict penalties on violators.
Many conflicts of interest have been uncovered, and questionable practices have been discussed by caring people who want to understand the apparent contradiction in what they hear about the childhood obesity epidemic and the efforts to end it. Even the first Childhood Obesity Awareness Month itself engendered controversy, when people asked "Why is McDonald's listed as a resource for Childhood Obesity Awareness Month?" Some authorities endorse bariatric surgery even for young children, and others are appalled by the surgical option, except in the most extreme circumstances.
The most significant development has been an increase of vision through the "psychological food dependence-addiction lens." Former doubters use the term "food addiction" as if they had been using it all their lives. The American public has heard from a large number of celebrities and ordinary people, who accept the diagnosis of food addiction, and the majority of them recommend 12-step programs as the best way back to a better life. We have heard Sarah Palin and others disparage the very idea of food addiction. And we have heard Dr. Pretlow and many other physicians and scientists, including the ones at Yale University, affirm its reality.
Your responses and feedback are welcome!

Source: "About COAM," Healthier Kids, Brighter Futures
Source: "Childhood Obesity Awareness Month," Healthier Kids, Brighter Futures
Image by ProgressOhio, used under its Creative Commons license.