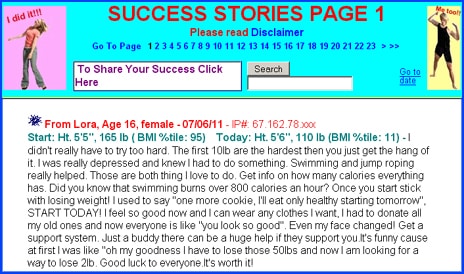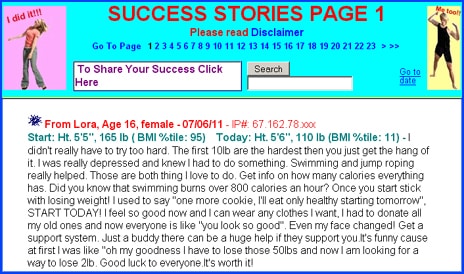 As with any other subject important to humans, personal testimony carries (excuse the expression) a lot of weight. Today's peek at social networking includes examples of individual stories meant to hearten and encourage others who have had enough of obesity and/or food addiction.
People share their epiphanies:
I realized yesterday after a family dinner that I am an addict… I am no different than an alcoholic or a drug addict… I will not stop until I am dead. Food will kill you just like drugs or alcohol only slower and maybe not so obvious.
Someone else replies,
I know where you are coming from. This food addiction is stealing my life away from me, one bite at a time.
Another member of this discussion group validates the original poster, and offers the voice of experience:
First step in healing is to admit that you are an addict… to drugs, alcohol… or even food. So, on that note, congratulations, because you are consciously aware of your weakness and you know what needs to be done. I avoid junk food at my house at all cost because I know that deep down inside me, there is a little addict living there and I cannot allow that little monster to take over my life.
Another person affirms the importance of not trying to do it alone:
It truly helps to have a support group around you who want to see you succeed. Believe me, without them, I wouldn't make it on my own.
The website I was a fat kid… this is my story is excellent. It's almost like being back in group therapy again. The entries are in five categories: Family, School, Playground, Friends, and Other. Some maverick ideas could be found there.
For instance, this writer expresses an opinion that is not shared by all:
There is nothing wrong with the term 'fat', yet there is still resistance in society, even in the fat-acceptance societies to the term being used. So be it. With any luck this site won't turn into a gripe session, but rather an open, sharing diary about life as a fat child in our society.
If you are a novelist preparing to write about an obese child, this website could fulfill half of your research requirements. The memoirs are from adults, looking back, and so they naturally contain a certain amount of mature insight and perspective, plus a reassuring level of literacy.
The other half of the novelist's research project would consist of a very extended acquaintance with Dr. Pretlow's Weigh2Rock website, for immediacy, timeliness, and a child's-eye point of view. The site has 20 different areas, most of them pleasantly interactive. This is networking for children; and, in their own area, for teenagers; and the young folks over 18 who are having trouble; and the parents.
Each group has its own bulletin board. Preteens and teens have chat rooms, and a grownup mentor to ask questions of. The preteens have a Clubhouse. The parents have a chat room. Plus, a member can calculate his or her body mass index, send in a personal success story, or feed an opinion into the current poll.
There is a live chat with Lucy RN on Wednesday evenings at 7PM Eastern time, and a "Kids Helping Kids" section with answers sorted by topics. Fad diets, saggy skin, teasing, vicious cycles — it's all there.
Open Salon hosts a blog called Diary of a Diary of a Food Addict, where the writer reflects on every aspect of the subject, with such titles as "Playing peek a boo with peace of mind," "Food Hell," "Day One Again After an Eight Day Binge," and "My Body Is Worth 25,000,000 Dollars. How Much Is Yours Worth?" This last essay, by the way, offers an original tip for maintaining mindfulness.
Your responses and feedback are welcome!

Source: "I am a food ADDICT!," MyFitnessPal.com
Source: "I was a Fat Kid, This is My Story," catay.com, 07/05/11
Source: "Diary of a Food Addict," Open Salon
Image of "Weight Loss Success Stories" on Weigh2Rock is used under Fair Use: Reporting.