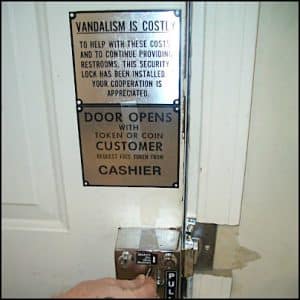 Believe it or not, the response of a TV personality to a TV writer is worthy of an article in the New York Post. Gary Janetti quipped, "This summer on Bravo, The Real Housewives of Ozempic,' to which Andy Cohen replied, "It's already airing." This exchange offered a foundation for unloading information about the popular weight-loss drug, just in case anybody in America has not heard of it yet.
Mayo Clinic endocrinologist Meera Shah had something to say about Ozempic and its siblings, in terms of their side effects. It seems that many people are not that bothered, and others are willing to tolerate the nausea, pain, diarrhea, and constipation. Folklore has it that the uncomfortable results diminish over time, but the cold fact is that "at least 10% of patients who start these drugs have to be taken off of them because the side effects do not improve."
Dr. Shah specifically mentions the mental anxiety related to not knowing when a bathroom emergency will arise, especially in unfamiliar surroundings. It is very nerve-wracking to never know when pain might hit, or whether it is safe to eat away from home, or if a restroom is readily available. It gets worse. The brain is connected to the gut, and when the brain is in turmoil because of this kind of stress, it tends to make intestinal issues even more pronounced.
There is another medically significant issue: the threat of malnutrition because the appetite is suppressed too much for the person's own good.
Shah said she commonly has to advise patients to take multivitamins or protein supplements in addition to the medication because they aren't getting the nutrients they need from food.
Dr. Shah also mentioned to journalist Cara Korte that the job of a diagnosing physician is more difficult when a patient is not forthcoming about previous issues around eating disorders. If a patient admits to a history of disordered eating, she refers them first to another staff member, a behavioral psychologist.
Jens Juul Holst, who helped to develop the GLP-1 drugs, told the press, "[I]t's unlikely that people will want to stay on the drugs for more than two years." After a while, it's a drag to not have an appetite or enjoy eating.
"That may eventually be a problem, that once you've been on this for a year or two, life is so miserably boring that you can't stand it any longer and you have to go back to your old life," Holst said. Some of these meds have been available since 2005, and "studies have shown that people don't stay on them for a long time."
Your responses and feedback are welcome!
Source: "Andy Cohen jokes 'The Real Housewives of Ozempic' is airing on Bravo," NYPost.com, 06/21/23
Source: "Ozempic side effects could lead to hospitalization — and doctors warn that long-term impacts remain unknown," CBSNews.com, 06/10/23
Source: "Scientist Who Pioneered Drugs Like Ozempic Says They Make Life 'So Miserably Boring' After Two Years of Use," People.com, 06/15/23
Image by Lance Fisher/CC BY-SA 2.0