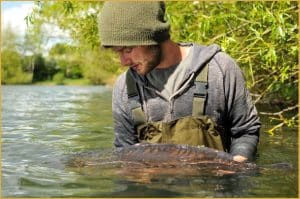 Here is a brief and partial explanation of why fly fishing helps people get better:
When we are close to moving water it creates an abundance of negative ions that we can absorb into our systems by proximity. These natural stimulating environments automatically up your serotonin levels, you absorb more oxygen into the blood and our bodies can better filter toxins.
In a previous post, we learned the story of Reeling in Serenity founder Becca Sue Klein, and now let's go a little further back to when she was Becca K. Powell, writing for DunMagazine.com. Spending time with moving water had already earned her "a reprieve from the hustle and bustle of a hectic city life and the strength to get through two cancer diagnoses."
In that era of life, she was serving as a senior staff member for the nonprofit Chattahoochee Riverkeeper, learning the truth of the slogan #WaterIsLife, and also working with the global organization called Waterkeeper Alliance, and fly fishing. Learning this new skill was empowering and served as "free therapy," and she wrote:
Wading out into the water with my fly rod in hand has shown me strength, peace, freedom, a way to give back, and a beautiful new family.
A related memoir
Moshe Kasher shares a truth about his youthful Comedy Store performances. Upset by bombing onstage, he would spend his half-hour trip home texting one girl after another, trying for a late date. As the veteran of several teenage rehab stints, Kasher understood that he was acting out the emotional state called "Somebody please fix me — get me out of this…" If he was almost home and nobody had answered yet, he would stop and buy a fancy doughnut. And there it is, displacement. You can't have one thing, so you settle for another.
Nobody starts out wanting to be a junkie. Addiction is a condition that someone settles for when they don't have what they really want. The concept of displacement can work either way; it can also be a power for good. A person can find something else in life that is better than addiction, and repurpose their drive to experience one kind of pleasure into a drive to experience another kind of pleasure.
Poetic justice
This is what makes the Reeling in Serenity experience so cherished by the participants. They are people who found something better than whatever they used to be hooked on. Anglers, more often than not, are just in it for sport, not to feed themselves, so they catch and release. They unhook the fish and let it go, similar to how their Higher Power unhooks them and frees them from addiction.
Your responses and feedback are welcome!
Source: "How Water's Negative Ions Increase Your Positive Vibes," TherapyHealthStudio.com, 02/25/19
Source: "One Life One River," DunMagazine.com 07/20/18
Source: "Moshe Kasher — Episode 938," GregFitzsimmons.com, 01/04/22
Image by Korda Team/CC BY 2.0