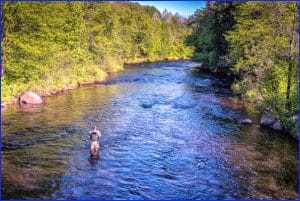 Reeling in Recovery is a new national non-profit organization based in Georgia that helps recovering substance abusers by teaching them, at specially organized retreats, how to fish. In some cases, the participants not only add a fascinating new dimension to their own lives but take it a big important step further by joining up as volunteers. When that happens, they pass along the benefit by teaching others to fish by spreading the word, and by helping to gather the donations that keep the program going.
The non-profit has its own website, along with a presence on Facebook, Instagram, and other social media. This is about a particular kind of fishing, fly angling, the kind where a person puts on waterproof gear and stands around in a river. But there is a lot more to it! On the practical side, several skills are involved — preparing the gear, knowing how to put on the waders and boots, how to handle the rod and reel, and how to cast. Participants do not need previous experience and can proceed at their own pace. (Also recommended are the elementary online courses offered by the group United Women on the Fly.)
Georgia Skuza, Reeling in Recovery's communications director, told a journalist,
Those in recovery talk about needing a routine, and in fly fishing there is a routine… You put your rod together, you put your reel on, you get dressed, you have your months in which it's really good to fish and that routine and that consistency helps a lot of people stay grounded. When you're on the water, everything else just melts away.
The program (which apparently is also known as Reeling in Serenity) works by helping former drug and alcohol abusers to maintain their sobriety, something that such individuals do not always find easy. It is a way to supplement their membership in the 12-step programs they have committed to. Former substance abusers need to associate with others on the path, but not just by sitting around in rooms sharing the stories of their previous and ongoing experiences.
Reeling in Recovery adds to that relationship with fellow addicts another whole dimension. It also benefits community members who are moved to help fellow humans struggle with addiction — often because they have lost family members and friends to the disease.
How does it work?
The nonprofit organization was founded by avid anglers, some in active recovery from alcohol or drug abuse. It holds free retreats for the participants, though they do have to pay their own way to the locations. A retreat class is limited to 10 participants and journalist Brian Whipkey explains,
[T]he participants will see fly-tying demonstrations, casting demonstrations, apparel instructions and a presentation from a nature-informed therapist who will combine recovery, nature and fly fishing and of course, go fishing… The organization attempts to supply anglers with gear or they can bring their own.
Since time immemorial, rivers have helped us humans feel our deep connection with nature. There are rivers in practically every part of the world, and corporate greed has not managed to ruin all of them quite yet. Just about any interaction with a river can be healthful, productive, engaging, and fun, a natural high whose therapeutic value is to provide an escape from everyday cares without drugs or alcohol. Tomorrow's post will go into more detail about this!
Your responses and feedback are welcome!
Source: "How fly fishing in PA will help people recovering from substance abuse," GoErie.com, 02/07/23
Image by Mobilus In Mobili/CC BY-SA 2.0