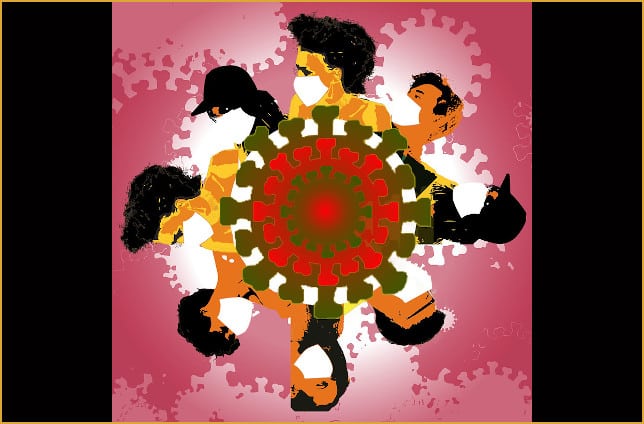 Every day we spend thinking about COVID-19 presents the opportunity to enlarge our vocabulary. Journalist Lena Hunter captured from Eskild Petersen, Editor-in-Chief of the International Journal of Infectious Diseases, an enlightening quotation:
If you have a mutation that makes the virus stick better to our cells, it becomes more contagious. That was the case with B117. If you have a double mutation, then less virus is needed for the variant to become more contagious.
As always, it is useful to know what we are up against. One of the previous Childhood Obesity News posts highlighted various developments in a few countries, but there is a lot more material to draw from, especially regarding the trend toward younger victims.
During 2020, the world had become accustomed to the idea that coronavirus was picking off the weakest members of the human herd — the elderly and those with various pre-existing conditions including obesity and its co-morbidities. Then, stories started to pop up here and there, of perfectly healthy young adults, teens, and even children, falling victim to COVID-19.
Earlier this month, Brazil was invaded by the P.1 variant which "is able to reinfect those who already caught the coronavirus" and "may also have mutations that could make vaccines less effective," journalist Kelly McLaughlin reported. Furthermore, most of the COVID-19 patients in the country's Intensive Care Units were under the age of 40.
In mid-March, Nathalia Passarinho and Luis Barrucho published an article for BBC that features frightening information from University of São Paolo epidemiologist Dr. Fatima Marinho;
Covid-19 killed at least 852 of Brazil's children up to the age of nine, including 518 babies under one year old, according to figures from the Brazilian Ministry of Health. But Dr Marinho estimates that more than twice this number of children died of Covid. A serious problem of underreporting due to lack of Covid testing is bringing the numbers down, she says.
Because of the gaps in tracking and bookkeeping, Dr. Marinho estimates that in actuality, the virus may have killed as many as "2,060 children under nine years old, including 1,302 babies." By mid-Apri1, Brazil's death rate was the highest it had been since the pandemic began.
The multi-system inflammatory syndrome is also making great headway, creating problems that threaten to affect its juvenile victims throughout their lives. Add to this the fact that most of the children who have caught COVID-19 already suffered from a co-morbidity such as diabetes, cardiovascular disease, or obesity, and the future appears dim.
The BBC Brazil reporters also noted that poverty and other "socioeconomic vulnerabilities" create risk. Because of the pandemic, the country's poverty rate tripled within one year, putting even more people in line to fall victim to the virus.
The big picture
Nowhere on the globe looks good right now. Prof. Christina Pagel, professor of operational research at University College London, writes…
I'm concentrating on 5 variants in England: our dominant B117 ("Kent") variant, B1351 ("S Africa"), B1525, P1 ("Brazil") & B1617 ("India").
B1617 belongs to the aforementioned two-mutation gang and seems to demonstrate an ability to outwit antibodies. Apparently originating in India, the variant is also making impressive headway in the United Kingdom, Germany, Denmark, and the United States.
Your responses and feedback are welcome!
Source: "India's 'double mutant' coronavirus variant discovered in Denmark. Should we be worried?," CPHPost.dk. 04/19/21
Source: "Most COVID-19 ICU patients in Brazil are now under 40 years old," BusinessInsider.com, 04/16/21
Source: "Why are so many babies dying of Covid-19 in Brazil?," BBC.com, 04/15/21
Image by Mike Finn/CC BY 2.0