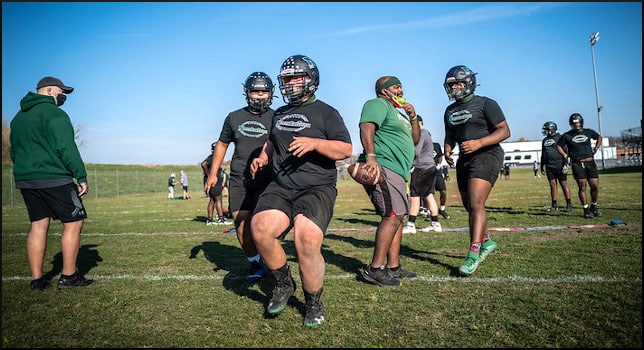 As described in the previous post, some Michigan parents sued their state Department of Health and Human Services for continuing the ban on contact sports competitions in high schools. Immediately the National Federation of State High School Associations made a statement about "accumulating evidence that the majority of sports-related spread of the virus appears to occur from social contact, not during sports participation."
The same claim has been made about virus transmission among college athletes. However, an argument could be made that most of that social contact is probably contingent upon the sporting events, and happens in bars, dorms, frat houses, and off-campus apartments. While high school students may not have such extensive freedom, they find plenty of places to get together to celebrate team wins and mourn losses.
In which case, canceling the sports altogether would be healthier for everyone. Without stretching too far, an argument could also be advanced that facilitating the spread of the virus in colleges threatens the brightest and (in the case of athletes) the most physically gifted members of the younger generation. A case could be made that it is a kind of reverse Darwinism, which kills off not the weakest, but some of the strongest and the fittest.
A couple of days later
Michigan's governor announced that the Department of Health and Human Services had changed its mind. As of February 3, in-person practice and competitions in all sports would be permitted, nay, encouraged, to resume. According to officials, metrics are "trending in the right direction." And it is unquestionable that exercise deprivation affects millions of children and youth very badly. Still, the plan could be called audacious, and not in a good way. Journalist Annah Johnson gave details:
The order states that participants must be masked at all times, but when it is not safe or possible for a participant to wear a mask, such as swimming competitions, they must follow specified protocols, before they can be involved in the practice or competition… Attendance will be limited to two spectators per athlete.
In Washington, D.C., when distanced and sanitized classrooms opened early this month, 49 students at Johnson Middle School had committed to coming in two days a week. But on the first day, only one student arrived on the premises. "By Friday," says reporter Perry Stein, "nine did." The principal had specifically reached out to over a hundred students perceived as "struggling," but very few were interested.
The principal again contacted families, asking what was wrong. For one thing, the kids had missed their required routine immunizations, which seems to be a problem in many parts of the country as people are without money or transportation, and doctors are cautious about treating patients in person for other than emergency reasons. Stein goes on to say,
It was a scene that unfolded in schools across the city's lower-income neighborhoods. They were operating under capacity with dismal attendance — a challenge exacerbated by bad weather and logistically complicated schedules necessary to accommodate the 9,500 students returning to classrooms and more than 40,000 students who remained home doing virtual learning.
As of last week, the city's school system (52,000 students strong) could accommodate 15,000 students in a COVID-compliant manner — yet fewer than 10,000 returned. Already, five different elementary school classes have been sent home for 14-day quarantine because one classmate tested positive.
Your responses and feedback are welcome!
Source: "NFHS revises guidance on risks for COVID-19 transmission during high school sports," LATimes.com, 02/02/21
Source: "Contact Sports to Resume Feb. 8 Per New Epidemic Order," TheCollegiateLive.com, 02/04/21
Source: "D.C. completes a week of in-person classes: Low attendance, frustrated teachers, confident principals and happy students," WashingtonPost.com, 02/07/21
Image by Phil Roeder/CC BY 2.0