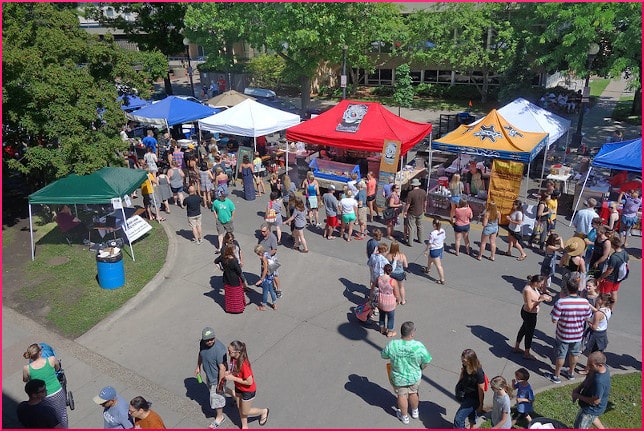 A farmers' market or green market is a relic of an institution, left over from earlier ages when there was no other kind of market. People grow vegetables, or raise chickens, or bake bread, then carry their turnips, eggs, and loaves into town. They set up shop on folding tables with, if they are really fancy, some kind of pole-and-sheet arrangement to keep the sun off. In the old days, for townspeople, the only shopping alternative was to wait until a peddler with a wheeled cart full of produce showed up in the lane, yelling out the day's specialties.
In today's cities, market hours are strictly delineated and space is carefully allotted, often on the grounds of a public building that is closed on the weekend anyway. The food producers can take advantage of manufactured shade awnings and arrange their vending tables as randomly or as primly as they like.
Their veggies might be meticulously trimmed and washed, or yanked from the ground and presented with soil clinging to them. One method is to set up an enormous long table with 20 varieties of vegetables laid out in heaps. The vendor does not bother to weigh, but simply issues a standard size plastic bag that every customer fills with whatever they like, for a set price.
The ambitious cook can buy a bushel of tomatoes or a hundred pounds of peaches to take home and preserve in mason jars. Locally sourced honey is advertised as being good against allergies to local plants. Other wares might include candy, coffee, jams, jellies, and kombucha. There are tiny seedlings for the customers to take home and nurture in their own gardens; aloe vera lotion and other natural remedies; enormous braided hanks of garlic; heirloom (ugly) tomatoes; hand-sewn aprons and pot-holders; and even tie-dye t-shirts.
Active customer participation
To minimize expense and waste, customers are encouraged to supply their own baskets and bags. Green market enthusiasts make up the most conscientious segment of today's food-buying public. They scorn genetically fiddled-with products and enjoy quizzing the growers on every detail of production. Parents worried about their children's (and their own) weight know that fruits contain no added sugar.
There might be homemade sausage on offer, and ethnic treats that can't be found elsewhere. One farmer trucks in a huge apparatus to roast chili peppers right there on the spot. Another specializes in several varieties of edible mushrooms. Around the edges, musicians show off their talents, hoping for donations to be tossed into a hat or violin case.
It's a nice outing for people who are wheelchair-bound and don't get to see much of the world. Parents find opportunities to teach. Even kids who are used to seeing the produce sections of supermarkets can have their horizons broadened. All those lemons and melons exist through the efforts of actual human beings, whose life's work is to make sure that other people are fed.
Casual and informal selling venue
There are downsides. Historically, prospective buyers are free to fondle the items, or even cough and sneeze over the tables. Transactions are carried out in cash, with people handling massive numbers of small-denomination bills. There are uncovered plates of samples impaled on toothpicks or measured into tiny portion cups. Some shoppers find it appropriate to bring their dogs, who get interested in each other and complicate the traffic flow.
Depending on climate, a market might be seasonal or year-round. It might set up for only a few hours each week and feature only a handful of vendors — but citizens want those hours and those vendors. The needs of ethnic communities might only met by small, independent growers. Some customers never cross the threshold of a chain supermarket, and shop exclusively at farmers' markets.
An additional layer of complication is added by the fact that activists spent years haggling with the federal government to allow customers to use their SNAP benefits for fresh veggies at outdoor venues. That concession has been continually under threat and, as Nicholas Kulish reports for The New York Times,
Roughly 40 million people rely on the program, though a recent Trump Administration rule change was expected to push 700,000 people from the rolls before the coronavirus crisis began.
Now, in this time of contagion, it would seem that such informal selling venues must be doomed. Various levels of government claim jurisdiction, and they are not always "on the same page." In one major city, since plague rules began, fresh-air markets were first allowed, then cancelled. In another, they were first ruled out, and then allowed.
In the best-case scenario, a state deems the farmers' market an essential business, and sets guidelines, or delegates the making of safety rules to local authorities, and things continue pretty much as before. People want to get back to normal, eventually, and normalcy means farmers' markets. Whatever happens, we need to be careful that nothing is done to permanently cripple this commercial format.
(To be continued…)
Your responses and feedback are welcome!
Source: "'Never Seen Anything Like It': Cars Line Up for Miles at Food Banks," NYTimes.com, 04/08/20
Image by Alan Light/(CC BY 2.0)