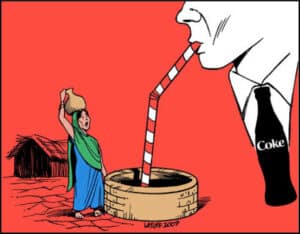 The contrast between water and soda pop should be obvious. Water is necessary for human life, and does not cause weight gain or any other adverse health effects. On the other hand, nobody needs sugar-sweetened beverages, which have multiple deleterious effects on health and life.
But the soda industry is not content to offer soda as an alternate choice to water. The industry is not satisfied merely to seize the huge advantage provided by the brainwashing tool known as advertising. Some people have pointed out the other aspect of this rivalry, which is that the soda industry seems intent on not even allowing choice to be available. To these critics, it appears obvious that in many parts of the world, Big Soda makes active efforts to remove water from the equation, so people literally have no choice other than to buy the products, if they want to drink anything at all.
Just another conspiracy theory?
A previous Childhood Obesity News post mentioned Ryan Alexander Diduck, who accuses Coke of irreparably tainting the music industry. He also broaches the world-encompassing threat of water insecurity which is, he believes, the most urgent concern the human race faces at this time.
Big Soda is part of the cabal that seems intent on ending life on earth, which is why…
Any and all industries that turn water into an unhealthy product and trademark it for human consumption and corporate profit must be held accountable.
People in India can probably name at least one American state, but how many Indian states could the average American identify? How about Tamil Nadu, which is at the southern tip of the subcontinent, right across the water from Sri Lanka? In one farming locale, crops are watered from the Thamirabharani river.
Since 2005, Pepsi and Coca-Cola were allowed to take a certain amount of the river's water. Apparently, nobody was monitoring how much the companies actually took. Especially in the dry season, the siphoning off of so much vital water is really harmful, not only to humans, but to deer in a nearby animal sanctuary.
Activists decided that enough was enough, and instituted a PIL, or public interest litigation, comparable to a class action suit in America, seeking a ban. Things got rough. At the SIPCOT Industrial Growth Centre, during a demonstration organized by farmer unions and political groups, police violently attacked the protesters.
The Madras High Court ordered a stay, which only temporarily stopped Big Soda from draining the river. Journalists Pheba Mathew and Ramanathan S. published a quotation from activist Nityanand Jayaraman:
Extracting scarce water for luxury and profit goes against residents and farmers, especially at a time when there is scarcity of water for drinking and irrigation. If there is surplus, it is a different matter but in case of scarcity I don't think it is a good thing.
(Stay tuned…)
Your responses and feedback are welcome!
Source: "From Coke & Pepsi To Red Bull, How Fizzy Drinks Swallowed Music," TheQuietus.com, 10/31/19
Source: "No Thamirabarani river water for Pepsi and Coke says HC, but the battle isn't over," TheNewsMinute.com, 11/22/16
Image by KillerCoke.org