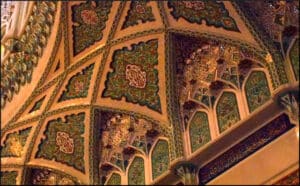 First, a disclaimer. The photo on this page has nothing to do with the subject of the post. It is the interior of a building in Muscat, Oman, and reminds us that in only a couple of days, on December 5, Dr. Pretlow will be in that city, speaking and participating as a panelist at the World Obesity Federation 2019 Regional Conference.
Now, on to the story of Zoya Khan of Mumbai, India. At birth, in December of 2010, the baby girl weighed around 6.5 pounds, which is within normal range. Only two days later, her weight was closer to 15 pounds, or far too much for anyone's peace of mind, all because of a single rogue gene. DNAIndia.com reported,
She was found to be suffering from morbid obesity caused by a genetic disorder passed on to her by her parents […] who are first cousins.
The couple had already lost a child to this same affliction, a boy who weighed close to 50 pounds at age two, and died from obesity-related respiratory issues. When Zoya was almost a year old, and weighed around 40 pounds, she became the youngest patient ever to undergo bariatric surgery. A medical team performed a sleeve gastrectomy, removing about 85% of her stomach, resulting in "the virtual elimination of ghrelin hormones, which stimulate hunger." But it didn't work.
By age seven, the child weighed in at around 87 pounds, having made medical history by not benefitting from this operation. She still needed a meal every half hour, and the remnant of her stomach had stretched to a one-liter (one-quart) capacity. She was able to stand only with support, and usually stuck to crawling. One of her doctors said,
She hasn't been walking for over two years and her parents carry her to the toilet.
A week before her eights birthday, the surgical procedure was repeated, this time by a different team. Agreement about the wisdom of the decision was not universal. Dr. Sanjay Borude, who had performed the first surgery, told the press that he would have waited until Zoya reached puberty to operate again.
But Dr. Mohit Bhandari, who did the honors the second time around, was of a different opinion. Zoya told him that she wanted to go to school, and he wanted to make that possible. He wrote,
Last month, she underwent a revision surgery which involved further reducing the size of the stomach and putting a non-adjustable silicon ring around it so that it does not expand.
After the second surgery, Zoya lost nearly 17 pounds in only 20 days. Her mother said that for the first time, the little girl was able to walk with the help of a walker.
Of course physiotherapy is part of the package, and in January Zoya was able to stay upright with the walker for as long as 10 minutes, and to walk in the hospital hallways five or six times a day. Dr. Bhandari expected at the time that it would take six months for her weight to normalize, and maybe three years before she could walk normally, without assistance. He described her new nutritional regime as "juices, soups, milk, and pureed food," and said,
Before the revision surgery, her diet consisted of tea and biscuits twice a day, daal, rice, vegetables, and chapati four times a day. Her rice consumption during each serving would be like an adult's. In between the meals, Zoya would eat chips, biscuits, chocolates, and ice cream.
This is troubling. How does a non-ambulatory child from a desperately poor family get hold of these treats? Over all those years, surely there was counseling? Surely there were followup visits, and some attempt to curb consumption?
We are not here to parent-blame, but after seeing their infant daughter undergo a serious and life-changing procedure, how were these parents not aware that they would have to police her forever? If things got so badly out of control the first time, how different can the circumstances be after the second surgery? It would be helpful if Dr. Bhandari had gone into that aspect more thoroughly.
Your responses and feedback are welcome!
Source: "Obese Bandra girl continues to baffle doctors, may become subject of global talk," DNAIndia.com, 04/14/15
Source: "Morbidly obese child loses weight for the first time after surgery," Bariatrics-India.com," 09/23/19
Source: "Mumbai girl undergoes second weight-loss surgery week before eighth birthday," IndiaTimes.com, 12/17/18
Source: "Bariatric Surgery helped 8 year old Zoya," Medium.com, 01/08/19
Image by Achilli Family/Attribution 2.0 Generic (CC BY 2.0)