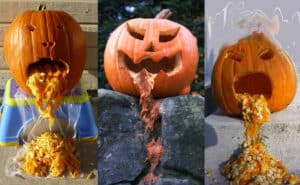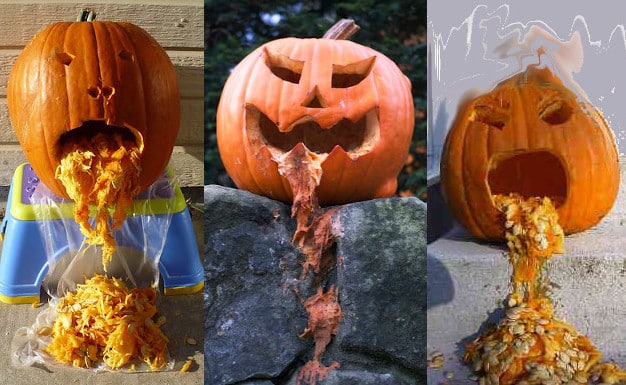 Leading up to Halloween, Childhood Obesity News devoted some energy to reviewing better ways to "do" the holiday. The desired condition is to have more fun than could ever previously have been imagined, with the minimum amount of candy.
Why are so many people against Halloween candy? Because childhood obesity is an epidemic with a huge financial cost and, more importantly, one that takes a huge toll in human misery.
For responsible adults, part of the misery is the dilemma of figuring out what to do about the trick-or-treat loot, both before the holiday and once it's over. Aside from keeping and devouring it all, the various aftermath scenarios can chiefly be summed up as confiscate, donate, and eliminate.
Journalist Stephen Matthews noted that from the Halloween collection haul, a typical child consumes more than 3,000 extra calories, none of them nutritious. The average parent, to his or her secret shame, absorbs nearly 2,000 extra calories in a courageous gesture ostensibly intended to save the children from the dangerous substances.
Other writers find other comparisons. For instance, a trick-or-treater winds up with around three cups of sugar, the equivalent of about 200 of those little restaurant-size packets. Not counting costumes, decorations, etc., this year American consumers spent about 2.6 billion on candy alone. That's up from an estimated $2.1 billion only four short years ago.
Confiscate
We have extensively discussed the various tactics and justifications that parents employ at Halloween in aid of outright seizure of the trick-or-treat proceeds. Some methods are sneaky while others involve open and often extensive and complicated negotiations.
One mother describes her solution:
So it's free candy at work for anybody who wants it. We'll pick out what we want and then I'll give the rest away at work.
Donate
Other donation recipients may include homeless shelters, food pantries, senior centers, nursing homes, hospices, veterans' organizations, and the overseas troops. Parents, doctors, and dentists may offer to swap other prizes for candy, which is then given away. Writer Julie Gunlock remarks, with tongue in cheek,
[M]aybe I should participate in my local dentist's candy confiscation program: "C'mon kids; you get this snazzy toothbrush when you bring in your evil, cavity-causing candy!"
If giving it away is too big a sacrifice, Marilisa Sachteleben suggests freezing leftover Halloween candy for later use, like baking cupcakes with interior surprises. She also suggests using it to decorate birthday cakes, put in Christmas stockings, and include in Easter baskets — ideas which may or may not be considered acceptable by family members.
Eliminate
Dr. David Ludwig pronounces on the morality of simply disposing of the Halloween haul:
Yes, it's important to respect food, and not be wasteful, especially when some people don't have enough to eat. But typical Halloween candy isn't food, it's junk.

After your child has had one or two candies from their Trick-or-Treat booty, throw out the rest (don't give it away and foist the problem on other kids). Use the occasion as an opportunity to teach your kids a critical message: health comes first.

Remember, the purchase price of those candies pales in comparison to the economic and human toll of diet-related disease!
Your responses and feedback are welcome!
Source: "Trick or treat? Children will consume more than 3000 calories just from Halloween sweets this year," Daily Mail.co.uk, 10/29/16
Source: "How much candy are you buying for Halloween?," USAToday.com, 10/05/19
Source: "Dietitians provides tips to parents to help control Halloween candy craze," Fox59.com, 10/31/16
Source: "Don't be afraid to let your kids gorge on Halloween sweets," NYPost.com, 10/30/15
Source: "Halloween candy leftovers use-up recipes, ways to reuse stale candy from Trick-or-Treat," BlastingNews.com, 11/01/16
Source: "Counterpoint: It's Not Just OK To Throw Out Halloween Candy, It's Smart," WBUR.org, 11/02/16
Photo credit (left to right): abbamouse, Han Zuyderwijk, on Visualhunt/CC BY-SA