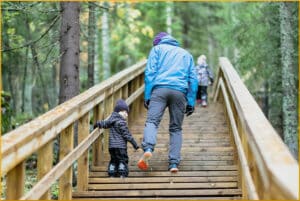 Yesterday's post pointed out pointed out how being conscientious about serving sizes can set the stage for later trouble or success. But that is just a part of the big picture. Dr. David Katz wrote about a meta-analysis that reviewed 60 studies to find other instances of the influence parents can exert when they set their minds to it.
The consumption of fruits and vegetables is definitely taught by example, according to researchers in the United Kingdom. Preschool-age children are especially vulnerable to influence, which should come as a surprise to no one. During that stage of life when parents are virtually the only influence, they populate the entire world, and of course a tiny impressionable creature adapts to that world.
Be the revolution you want to see
Apparently, children also tend to fall in line with whatever level of physical activity — or apathy — that they see demonstrated by the grownups. The amount of activity modeled by the parents is considered a direct influence; and there is also an indirect effect, applied by the amount of involvement, support and encouragement that parents show for kids' physical exertions.
A digression is possible here, that says something about the importance of affordable health care for growing families. Parents who are terrified by the prospect of medical bills are not likely to encourage physical activity, it's that simple. Everything in the culture has far-reaching unintended consequences, including the perilous state of funding for a broken arm emergency. A family might conclude that the risk of a huge medical bill is a worse threat to survival than one obese child. So, no bike for Jimmy.
At any rate, these numbers are kind of impressive:
In a study involving 1,124 12-year-old children and their parents, researchers in Sweden found that girls and boys who had two physically active parents were four times and nine times more likely, respectively, to be engaged in vigorous physical activity or sports than kids whose parents were inactive.
In the eating department, surely any parent can spare a little time to learn the secrets of cabbage, parsley, and rutabagas. We can peruse articles like "29 Healthy Foods That Are Incredibly Cheap." We can self-educate about which veggies and fruits are abundant at what times of year, and plan to take advantage of sale prices.
If a family is prosperous enough to have a freezer, it shouldn't be reserved for pizzas and ice cream. When peaches are in season, buy a crate of them. Scald the skins off, take the pits out, and freeze the fruit in packages of a convenient size. There might even be a child in the household who is interested in preservation techniques. It's worth looking into. Doesn't have to be a girl. If a boy happens to turn out to be the next Jamie Oliver, it's all to the good.
Your responses and feedback are welcome!
Source: "How Parents Can Control Childhood Obesity," VeryWellHealth.com, 12/04/17
Photo credit: Visit Lakeland on Visualhunt/CC BY-ND