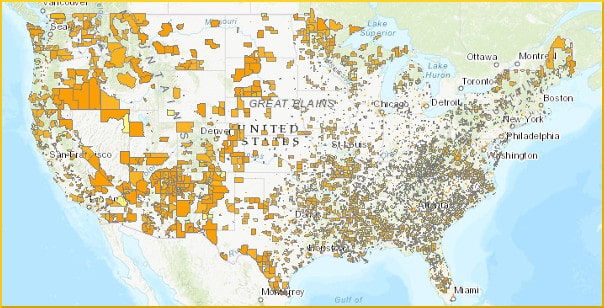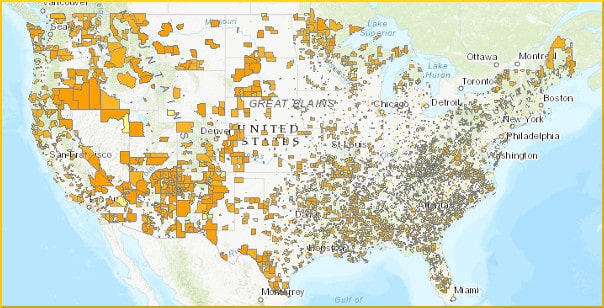 After the turn of the century, scholars began to notice that people in disadvantaged neighborhoods seemed to lack access to nutritious fresh foods. This absence was linked to poorer health in general, and specifically to increasing obesity, and was considered important to track. However, when it came time to study and document the problem in an orderly fashion, researchers were hindered by their frequent tendency to start out with varying definitions of "food desert," which made it difficult to compare different areas or measure success.
The Food, Conservation, and Energy Act of 2008 came into being in June of that year, and a lot of it had to do with food deserts. It told the Department of Agriculture how to utilize its resources:
These activities include researching the prevalence and causes of food deserts; effects of food deserts on populations; recommendations for reducing and eliminating food deserts; community development initiatives; incentives for food stores to establish in food deserts; and partnerships to address food deserts.
Some professionals felt that a step had been skipped. While the politically-minded forged ahead, figuring out how to fix the food desert problem, some in the field were saying, "Wait a minute, how much proof do we have that there really is such a thing?"
The federal government prepared the USDA Food Atlas by setting up some definitions. City people living more than a mile from a supermarket; country people living more than 10 miles from a grocery store; and people anywhere with no food store in the area plus no access to a vehicle, are plotted separately. The maps are interactive in that the viewer can call up different categories of information.
Not long after the 2008 Act was passed, a report was released of a meta study that looked at 31 studies that measured food access by nine different criteria, and that focused on racial/ethnic and income disparities. Ten articles concerned access to supermarkets; 11 were about racial/ethnic disparities in food deserts; 11 described income/socioeconomic status in food deserts; and 14 were about the differences between chain and non-chain stores.
One of these areas, where additional research is needed, explores the impact of residing in a food desert. Specifically, there is debate about whether living in a food desert is associated with unhealthy eating and food buying practices. It is unknown to what extent additional factors, including personal preferences, are better indicators for healthy eating than the actual presence or absence of a supermarket.
The research team noted what was surely a deficiency in food desert investigation:
While many studies focus on the presence or absence of supermarkets, few examine the dynamic interaction between other food venues (restaurants, corner stores, gas stations, etc.) as places, where residents purchase food… This is important because these venues, in addition to local grocery stores, comprise the food environment and offer food items for residents.
The team came to some rather troubling conclusions. Even when the overall economic burden was eased by the opening of a new supermarket with periodic sales on many products, the residents did not use the savings to buy greater amounts of fresh food. Fresh produce is the main item on the reformers' wish list, because of the belief that its consumption leads to improved health, so this finding naturally led to puzzlement and disappointment among the activists striving to bring about change.
Changes that would appear on the surface to improve the food desert situation, sometimes led to unintended consequences:
For instance, with the opening of a larger store, residents had a larger variety of foods, including prepared foods to choose from and reported feeling "tempted" to overspend small food budgets by purchasing large quantities of needed items or purchasing "luxury" items.
The long and short of it is that ready availability of nutritious food is no guarantee that people will lay down their money for it. After dissecting 31 previous studies, this team wrote what might be considered as an almost humorous understatement:
Research is needed to better understand additional factors involved in food buying practices among the residents of food deserts.
Your responses and feedback are welcome!
Source: "Disparities and Access to Healthy Food in the United States: A Review," MafiaDoc.com, 04/17/10
Source: "Does Your City Have a Food Desert? Check with This Interactive Map," OneGreenPlanet.org, 2018
Source: "Disparities and access to healthy food in the United States: A review of food deserts literature," RootCauseCoalition.org, September 2010
Image by U.S. Dept of Agriculture