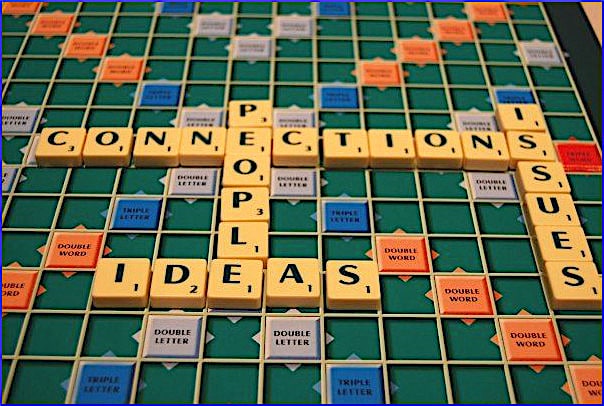 "Connect" turns out to be a very important word. Almost everything that we as humans ever want to do requires that something be connected to something else. Connection is a major concept.
Remember how many years it took to produce the 5th Edition of the Diagnostic and Statistical Manual of Mental Disorders? Its creators wrote this:
The new framework is intended to encourage research both within and across diagnostic groupings with the hope of advancing our understanding of the relationships between disorders. The more researchers and clinicians know about these connections, the more they will be able to identify patterns or even causes of mental health disorders, which in turn may inform the development of better treatments.
Across. Relationships. Patterns. Connections! Some things have to be connected in the literal sense, like a device to a power source.
Smart devices are defined as instruments, equipment, or machines possessing computational capacity of their own, and the ability to interact autonomously with other users and their devices. They may be part of big or small networks.
Researchers from Costa Rica, Spain, and Mexico produced a paper titled "Smart Device-Based Notifications to Promote Healthy Behavior Related to Childhood Obesity and Overweight." In designing a system, many factors must be considered and a very great number of contingencies taken into account. For instance: Who will receive notifications, and when will they be delivered? What will the notifications contain? Where will they be displayed?
The paper discusses various components of the system, such as the Message Queuing Telemetry Transport protocol, affectionately known as MQTT. Here are some of its intricacies:
Publish-subscribe is a communication pattern where senders of messages, called publishers (e.g., notification dispatcher), do not route messages to be sent directly to subscribers (e.g., notification devices), but instead characterize messages into topics and publish/post them on a broker.

The subscribers then receive the messages from the broker depending on the settings of their connection and the topics they are subscribed on. The broker (5th component) consists of a dedicated server placed between publishers and subscribers to manage message dispatching and to ensure delivery…
Studies have shown that the company of like-minded friends can help a person lose weight. It doesn't seem to matter if they are supportive in a rah-rah way, or deliver enough "tough love" pretend bullying to get you through the rough times. The same goes in cyberspace, which of course Dr. Pretlow has shown for years through the popularity of the online community that grew around his Weigh2Rock website.
But getting back to the findings from Northwestern University, lead researcher Julia Poncela-Casanovas and the team looked at the weight-loss website records of close to 50,000 subjects, of which 88% were women, so that might mean something. Interesting facts came out:
Such sites, it seems, are much like gyms in the real world, in that 40% of these people — around 19,000 — visited once and never came back. Only 22,419 lasted long enough to weigh themselves at least twice. Of these, a mere 5,409 stayed the course for six months or more…
What are the predictors of success? The person's initial BMI; how many times she weighed herself; and the number of friends she made in the network. In the eyes of a doctor, significant loss begins at 5% of the starting weight. The team learned:
The average weight reduction for those who lasted six months but had no friends in the network was 4.1%. For those with two or more, however, it was 8.3%. Every extra friend someone had increased her weight loss by 0.7%.
The authors say, "Friends and weight loss are correlated." Which is another word for connected. Now, here is where we come full circle, back to the devices, because…
[…] if it does turn out that friendship networks are a magic wand for weight loss, then it may be easier to nudge people into such networks electronically than if they actually had to meet each other in a sweaty gym.
Your responses and feedback are welcome!
Source: "The Organization of DSM-5," American Psychiatric Association (PDF)
Source: "Smart Device-Based Notifications to Promote Healthy Behavior Related to Childhood Obesity and Overweight," NIH.gov, 01/18/18
Source: "A burden shared," Economist.com, 01/29/15
Image by Visualhunt