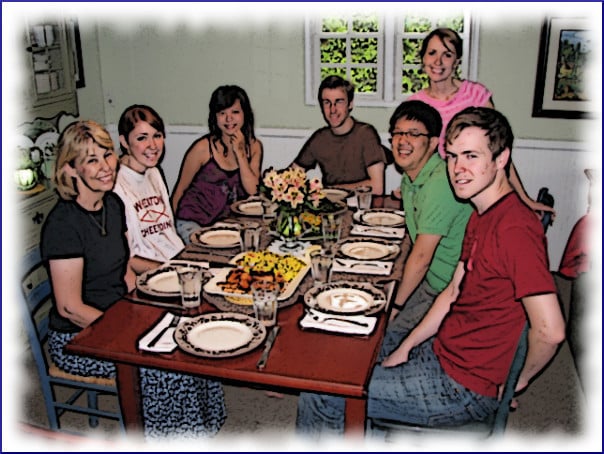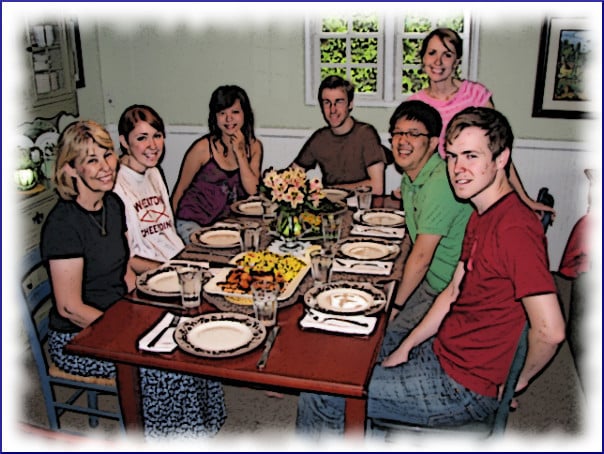 In Overweight: What Kids Say, Dr. Pretlow writes,
Actively talking about healthy eating as a family, researching and learning about healthy foods, planning menus together, shopping together, cooking together, eating family meals together at home, and doing activities together are ways for parents to be role models for their kids.
He also mentions a study of families that eat dinner together more than five times per week, and apparently the number of kids with weight problems is reduced by more than 20%, in comparison with families who don't do that.
At the University of Minnesota, a research team found that the shared meals need not be oppressively lengthy. One hundred and twenty children participated, along with their parents. It appears that a family can thrive on 20 shared minutes of togetherness, over food, several times a week.
Sadly, this type of research is apt to be dismissed as the softest of soft sciences. It depends on self-reporting, which is always a dicey proposition. And as a general rule of nature, correlation does not always imply causation.
Consensus not universal
Yesterday, we tossed around some ideas about grocery acquisition, which is a preliminary step toward eating them. About the eating, experts do not always agree.
Nutritionist Maryann Jacobsen describes the experience of a colleague whose home adopted family-style meals, defined as "placing food in bowls or platters and having everyone serve them self." After years of this habit, the four children are perceived by their mother as normal eaters:
They have their food preferences and their dislikes. Sometimes they love dinner and eat a lot, and sometimes they don't. Best of all, they tolerate the company of a variety of foods on the table, whether they choose to eat them or not.
On the other hand, some might say that when congratulations are being handed out, the mere toleration of a variety of foods in one's presence is a pretty low bar.
A 2014 study was titled, "Passing bowls family-style teaches day-care kids to respond to hunger cues, fights obesity." And yet, Dr. Jens Christian Holm, who is known for The Children's Obesity Clinic's Treatment (TCOCT) protocol, says the ideals are…
Portions served up in the kitchen — no pots and pans at the dining table. Wait 20 minutes before having second helpings — this allows time for the body to feel full.
Your responses and feedback are welcome!
Source: "How Family Dynamics at the Dinner Table Affect Kids' Weight," TIME.com, 10/13/14
Source: "The 10 Golden Rules For Exposing Kids To Food (Part 5)," MaryannJacobsen.com, 11/22/13
Source: "Passing bowls family-style teaches day-care kids to respond to hunger cues, fights obesity," AlphaGalileo.org, 01/14/14
Source: "Has this town found the cure for childhood obesity?," DailyMail.co.uk, 11/10/14
Photo credit: Micah Sittig on Visualhunt