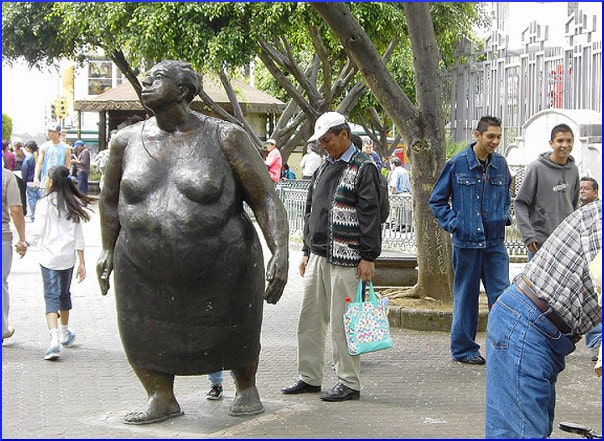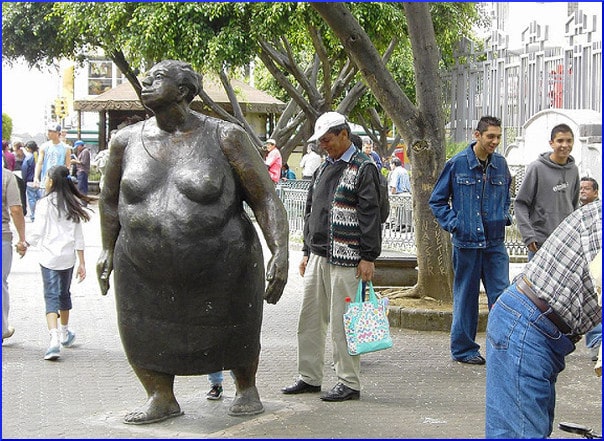 Another case study from the TV series "My 600-lb Life" illustrates once more how complicated and baffling the relationships can be, between morbidly obese patients and the friends and relatives in their social environment.
Through the magic of video, we travel back in time to 2014. At 778 pounds (and, amazingly, still ambulatory), Charity Pierce is the world's fattest woman. The 38-year-old with an "insatiable appetite" is trying to lose weight on her own, a requirement in preparation for the bariatric surgery she wants. She manages to get down to 765 pounds, including a lymphedema, or gigantic mass of flesh protruding sideways from her left leg and hip.
Charly (age 18) is sent out to shop for a wedding gown for her mother's planned marriage to a 21-year-old man. Charity plans to wear a classic white flouncy gauzy dress, with cowboy boots and a cowboy hat. Tony Sauer, the youthful fiance, is brother to Charly's father — her uncle, in fact. (As the old saying goes, you can't make this stuff up.)
To pay for a $5,000 ambulance ride to Houston to consult with Dr. Younan Nowzaradan and possibly be on the TV show that was created to showcase his unique talents, Charity Pierce set up a crowdfunding account.
A reverse poster child
Meanwhile Charly, herself quite large, reveals to the press that although she and her mother used to get along, the atmosphere has changed to one of almost constant friction. She had stepped up and become the full-time caregiver of her nearly helpless, almost 800-pound mother, and was now frustrated and fed up with her circumscribed life.
In May of 2016, Charity was quoted as being worried about her daughter because "she's a food addict like I am, and I've started noticing the weight gain…" At the same time, daughter Charly was quoted as saying,
Now that she's not so dependent on me, I got a job, I'm in control of myself now. It's her turn to take care of her and stop trying to focus so much on me. My mom and I are doing a lot better now that she doesn't need my help as much as she used to. It's a huge change.
All this came about in reaction to the airing of "My 600-lb Life: Where Are They Now?" (Season 5, Episode 20) which seemingly pleased no one. Charity had the gastric bypass surgery and lost more than 400 pounds. Even with the help of surgery, the former heaviest woman in the world had found weight loss much more difficult than anticipated. The show brought viewers up to date on the problems that followed, which anyone considering bariatric surgery might want to take note of.
There was a lot to cope with, and still more unpleasantness to come. After that episode aired, online commenters excoriated both mother and daughter — for eating in the doctor's waiting room, for making "far too many excuses," for "circling the drain together," and for basically being too depressing.
Charly was attacked for wearing flip-flops and a shirt patterned with pictures of doughnuts. Boyfriend/uncle Tony came in for his share of disapproval as a "useless hangdog of a boytoy." As a family, they were criticized for keeping a messy home and not eating at a table.
(To be continued…)
Your responses and feedback are welcome!
Source: "World's Heaviest Woman Attempts to Lose Weight to Wed", YouTube.co, 2014
Source: "This Formerly 800-Lb. Woman Is Concerned Her Daughter Is Becoming Obese Too," People.com, 05/04/16
Source: "S05.E20: Where Are They Now? Milla & Charity," Previously.tv
Photo credit: Richie Diesterheft (puroticorico) on Visualhunt/CC BY