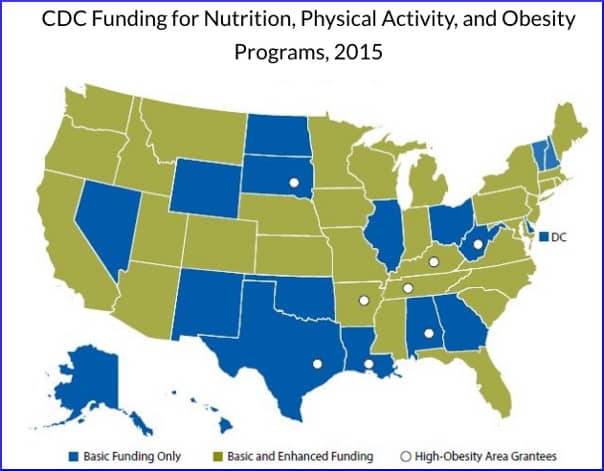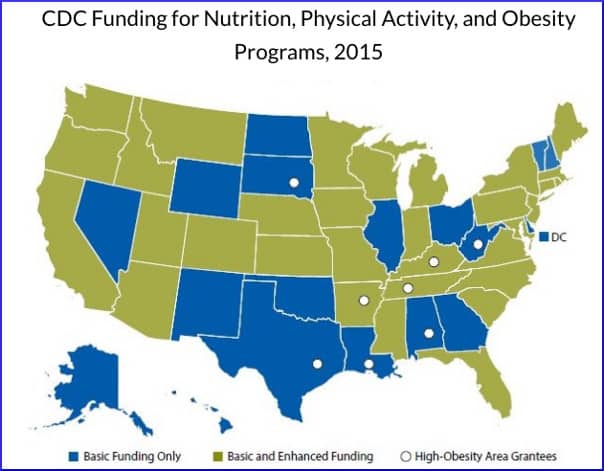 Here, from journalist Clint Rainey, is a reaction typical of those who care about such things:
President Trump's budget cuts would slash CDC funding by more than $1 billion. This would reportedly eliminate the agency's Division of Nutrition, Physical Activity, and Obesity [DNPAO] — the arm tasked with "protect[ing] the health of Americans at every stage of life by encouraging regular physical activity, good nutrition, and preventing adult and childhood obesity."
Subsequently, some departments have had their operating funds severely reduced, and others are still uncertain about their fate. Childhood Obesity News is looking at obesity-related programs that have either already been impoverished, or are potentially endangered, by cuts to the federal budget that affect the Centers for Disease Control.
What is at stake here?
Early Care and Education (ECE) refers to efforts made in settings where children can be easily influenced — including child care centers, day care homes, Head Start programs, and preschool and pre-kindergarten programs. In 2010, then-Surgeon General Regina M. Benjamin identified these venues as high-priority targets for obesity prevention efforts. Currently, 10 states are involved: Alabama, Arizona, California, Florida, Indiana, Kansas, Kentucky, Missouri, New Jersey, and Virginia.
Some ECE programs are managed by the Farm to Preschool Subcommittee of the National Farm to School Network, whose activities include "purchasing local food for snacks or meals, garden-based education, cooking demonstrations, classroom visits from farmers and more."
And naturally, to evaluate its effectiveness and keep it on track, ECE has a Working Group with outside partners:
The working group is a collaborative effort of the Robert Wood Johnson Foundation's Healthy Eating Research (HER) and Active Living Research (ALR) programs and the CDC's Nutrition and Obesity Policy Research and Evaluation Network (NOPREN) and Physical Activity Policy Research Network (PAPRN).
Before even describing the Division of Nutrition, Physical Activity, and Obesity, and at the risk of harping on one string, please observe something about the department's name. It references obesity, nutrition and physical activity. It does not mention psychological problems, which have become more and more apparent as precursors of obesity.
A lot of people, even children, cope with emotional stress by feeding it, and until that sad fact is addressed, only limited progress can be made. Of course, for the government to even dip a toe into these troubled waters would invite accusations of nanny-state brainwashing, and so on.
DNPAO
According to its "About Us" page, the DNPAO is about protecting the health of Americans of all ages. For babies, it recommends breastfeeding. In the pediatric realm, the agency supports regular physical activity, such as plenty of active play in daycare center; and is in favor of older kids walking to and from school if at all possible. It offers advice and help to child care centers, schools, hospitals, and workplaces. Some of its other tasks are "building capacity of state health departments and national organizations; and conducting research, surveillance and evaluation studies."
They publish a 12-page booklet that explains the diverse scope of their activities, and lists all the divisions including the State Public Health Actions Program whose funding provides for the promotion of healthy food options and high nutrition standards, more physical activity, etc. Other branches are REACH (Racial and Ethnic Approaches to Community Health) and the High Obesity County Program. In the past, the DNPAO has received enhanced funding in 32 states for things like safe community recreation spaces.
Your responses and feedback are welcome!
Source: "America's Top Public-Health Official Has Shady Ties to Coca-Cola," GrubStreet.com, 07/13/17
Source: "Early Care and Education (ECE)," CDC.gov
Source: "Division of Nutrition, Physical Activity, and Obesity," CDC.gov
Source; "CDC's Division of Nutrition, Physical Activity, and Obesity," CDC.gov
Image by CDC.gov