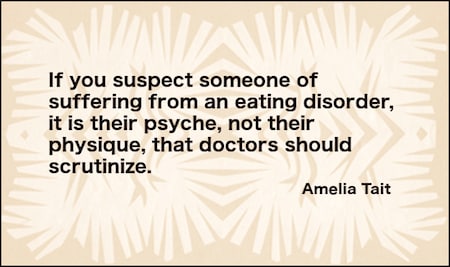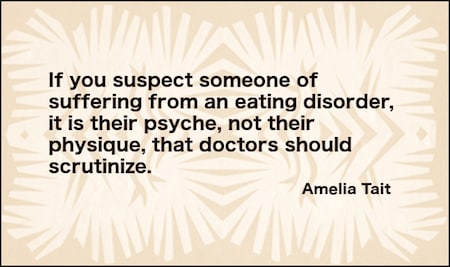 In the small intense universe where Anorexia Nervosa is glorified it is difficult to tell, even with extensive reading, whether any particular blogger is in favor of convincing others to act like they have that disease, or against it. The Tumblr blog written by someone with the handle "Edcynic" apparently no longer exists. It was said to be anti-pro-ana but really, the motivation is mysterious.
Others took the trouble to preserve and pass along Edcynic's online guidelines, comprising 51 rules distributed among 9 categories:
Weight Numbers/BMI/Weight Loss
Food Intakes/Calorie Consumptions/Diets
Selfies
Pictures of NG Tubes/Hospital Bracelets
Thinspo
Talking About Your Eating Disorder
Before and After Pictures
Pictures of Your Food
Random Quotes/Sayings/Text ("Nothing Tastes as Good as Skinny Feels")
Typical questions that a commentator is expected to ask herself before posting in Edcynic's area are:
Am I posting this under the pretense of it being a selfie but simultaneously emphasizing a specific body part? (for example, you posting "I love my shorts today!" when you really just want to show your thigh gap.)

Am I posting this under the pretense of documenting my meals in recovery when in reality I am still holding on to the obsession with food?

Am I writing about specific behaviors in order to glorify or romanticize my eating disorder or eating disorders in general? … in order to brag about how sick I am?
The ultimate question, as posed by Edcynic, is,
Am I posting this for me or my eating disorder?
Yes, it is a worthy question, but all this preoccupation with qualification and rule-making simply has an unhealthful vibe, and emphasizes again the importance of realizing that eating disorders generally originate in the mind, and need to be treated by mental health professionals. The anonymous author of "Anorexia is not a diet" says,
An eating disorder initially serves a purpose in a sufferer's life — it is an unhealthy coping mechanism, but at some point it is needed for whatever reason, and choosing to get better can feel terrifying when your eating disorder is the only way you know how to cope with difficult emotions/situations/events in your life.
The writer emphasizes that patients are often terrified to let go of their illnesses, because they are incapable of imagining a different kind of life. As so often happens, an old saying fits the case: "Better the devil you know than the devil you don't."
Case in point: A search for information finds such titles as "Giving Up an Eating Disorder: What Else Might You Be Giving Up?" and "Finding New Meaning and Purpose in Life After a Long Term Eating Disorder."
The thing is, it requires an impressive level of obsessiveness to write a list of 51 caveats directed at others who want to join a discussion. It is very tempting to suspect that even the ostensible anti-pro-ana blogs and forums are actually written "for my eating disorder" — even if the writers do not acknowledge it to themselves. Sadly, it appears that a certain number of people who recover from eating disorders are able to progress no farther than replacing the illness with compulsively writing about the illness.
Your responses and feedback are welcome!
Source: "Can I Post This/Is This Okay To Post?," Tumblr.com, 09/17/14
Source: "Anorexia is Not a Diet," Tumblr.com, 2017
Image source: Broadly/Vice.com