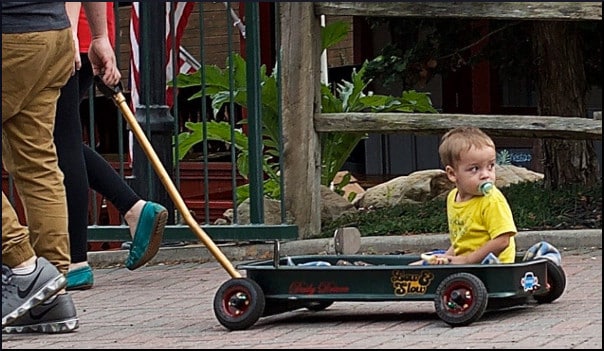 Who knew that there could be so many disturbing connections between obesity and the common baby pacifier? Childhood Obesity News mentioned a study published in Basic and Applied Social Psychology, described as "the first of its kind to link psychological outcomes to pacifier use."
The subjects were boys of 6 or 7 who had a history of pacifier use as babies or toddlers. The researchers found that when the boys were shown video footage of people making emotional facial expressions, they had trouble imitating or reflecting those expressions.
College-age men did not fare much better. Those who had been frequent pacifier users as babies scored lower in tests of "perspective-taking," which is a component of empathy. Christine Kearney quotes Paula Niedenthal, lead author of the young boys study, as saying,
There's no effect of pacifier use on these outcomes for girls, and there's a detriment for boys with length of pacifier use even outside of any anxiety or attachment issues that may affect emotional development.
Somehow it seems that girls are exempt from this effect, perhaps because they already experience a degree of emotional development before they start being given pacifiers. Niedenthal suggests that since emotional sophistication is highly prized in girls, parents stimulate their emotional intelligence in other ways. She goes on to say:
But because boys are desired to be unemotional, when you plug them up with a pacifier, you don't do anything to compensate and help them learn about emotions… Since a baby is not yet verbal — and so much is regulated by facial expression — at least you want parents to be aware of that using something like a pacifier limits their baby's ability to understand and explore emotions. And boys appear to suffer from that limitation…
It is okay for a boy to have a pacifier at night, the research shows, possibly because a baby isn't supposed to be emotionally mirroring adults, or forming empathetic expressions while asleep anyway, so no harm is done.
Mark D. Faries, Ph.D., is a psychologist specializing in health and exercise, who took on the subject of non-nutritive sucking, and particularly pacifier use, for his column. He writes about a study of almost 400 babies (age 9 to 15 months) who either were or were not allowed to use a pacifier.
These were almost all African-American subjects. The results showed that:
[…] there was an increased prevalence of overweight and obesity in infants whose parents did not use a pacifier consistently than those whose parents did use the pacifier consistently. […] The majority of mothers (70%) stated that pacifier use was used to minimize frequent feedings, which was even more important in the formula fed babies — since there are increased odds of being overweight in children who are formula fed instead of breast fed.
A separate study of largely white, non-Hispanic babies went another way. The pacifier users measured up as overweight at both one year and two years. How does Dr. Faries explain this?
In these two studies, there were differences in ethnicity, parents' education level and income, and the use of formula instead of or along with breastfeeding. There were also differences in the timing of pacifier use — early, late, truncated, or extended — that inspired the original authors to remark, as researchers so often do, that additional longitudinal studies are needed.
Dr. Faries contends that nothing in the chemical composition of a pacifier can influence weight one way or another, a position strongly contested by those who hate the ubiquitous presence of phthalates in objects that children suck or chew on. Here is his summation:
So, it appears that pacifier use could be helpful in some infants, but not others. We do not know why, but it appears to be related to whether or not the pacifier use allows the parent to breastfeed the proper amount and timing for the health of the baby.
In this particularly sensitive area of human existence, the number of potentially crucial variables is apparently vast.
Your responses and feedback are welcome!
Source: "Pacifier Use Can Lead To Emotional Problems In Boys," MedicalNewsToday.com, 09/19/12
Source: "Can Pacifiers Reduce Infant Obesity?," FitnessPudding.com, undated
Photo credit: Tom Driggers (tvdflickr) on Visualhunt/CC BY