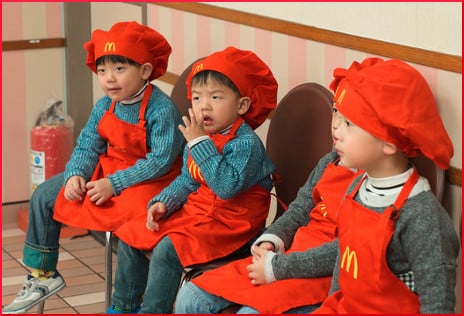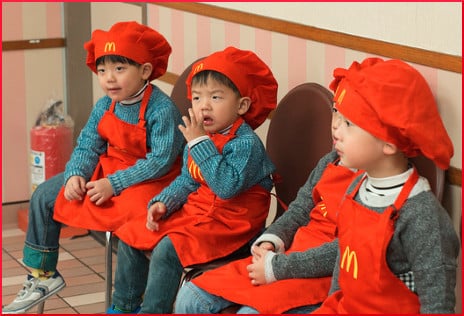 It has been a while since Childhood Obesity News caught up with the fate and fortunes of McDonald's. We remarked, a while back, on how the Ronald McDonald House Charities earned negative publicity. The corporation also incurred displeasure by spending 25 times as much on advertising as on charitable donations. Also, word got out that McDonald's spent a smaller proportion of its profits on charity than other, comparably wealthy corporations.
A promise was made to not use schools for marketing purposes, and apparently was broken. Critics did not appreciate the corporation's tendency to use charity as a smokescreen to distract attention from questionable business practices. Meanwhile, many other societal factors were at work too, and the attitudinal landscape shifted. The grotesque clown Ronald McDonald faded from the foreground, and the company made a tentative effort to revive another mascot called the Hamburglar.
In 2015, McDonald's closed 900 stores in various locations around the world. In India, children were showing up with kidney stones in unprecedented numbers. High-sodium foods like pizza and burgers were blamed, and fizzy drinks were also condemned as contributing to the problem. At King George's Medical University, at least five cases of kidney stones were reported per week, when there used to be more like one a month.
In 2017, the corporation announced its intention to close 169 locations in India, but that had more to do with a quarrel between business partners than with any concern for public health. The corporation recently announced plans to open 1,000 additional stores all over the world. Automation and robotics are the name of the game. Mobile ordering and delivery are services in great demand.
In the autumn of 2016, Kosair Children's Hospital in Louisville, KY, ended its relationship with the in-house McDonald's. The Physicians Committee for Responsible Medicine had raised almost $5,000 for an advertising campaign against the fast-food presence. A hospital spokesperson announced that the reason for non-renewal of the lease was not public health or displeasure, but because the space was needed for pediatric care services.
We have previously mentioned McTeacher's Nights, which were called distressing, unconscionable, and many other unfavorable adjectives. The 31,000 member teachers' union in Los Angeles named three top reasons for condemning the practice.
First, the health crisis, characterized by increasing obesity and type 2 diabetes among children. Second, McTeacher's Nights were seen as exploiting the authority and trust reposed in teachers. Third, the program wasn't even very effective as a fundraising mechanism. One result was that the "McDonald's Educates" website was discontinued.
In January of this year, McDonald's broke some ostensibly eco-friendly news:
The Golden Arches announced Tuesday that 100% of guest packaging (wrappers, cups, and other packaging) will come from renewable, recycled, or certified sources by 2025. It also set a goal to recycle guest packaging in 100% of McDonald's restaurants by 2025, and to rid all its restaurants worldwide of foam packaging by the end of 2018.
Just last month, McDonald's and Disney disclosed that their relationship, which had been on hiatus for more than 10 years, is resuming. In June the cross-promotions will begin, including the return of Disney Happy Meal toys.
This sentence from Reuters.com is interesting:
Executives from both companies declined to disclose the duration or value of the new deal.
Your responses and feedback are welcome!
Source: "Fast food linked to kidney stones," DeccanChronicle.com, 04/26/15
Source: "McDonald's to open 1,000 new restaurants, speed up tech upgrades," USAToday.com, 01/30/18
Source: "McDonald's closing at Kosair Children's Hospital," Courier-Journal.com, 09/22/16
Source: "LA teachers to McDonalds: Stay away from our students," BeyondChron.org, 11/02/16
Source: "McDonald's Announces Move That Will Change the Future of Fast Food," PopCulture.com, 01/17/18
Source: "Disney toys return to McDonald's Happy Meals," Reuters.com, 02/27/18
kids
Photo credit: Michael Rehfeldt via Visualhunt/CC BY