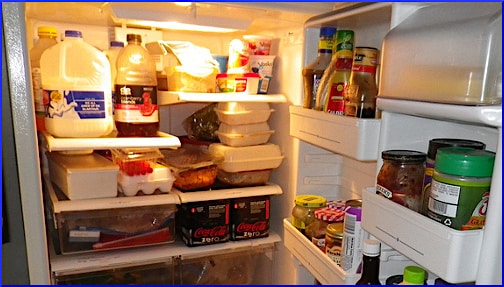 A very recent multi-authored paper is called "Smart Device-Based Notifications to Promote Healthy Behavior Related to Childhood Obesity and Overweight." One of the devices referenced in the title hands out "snacking behavior notifications," and we are told that the audience for these bulletins is the parents. They appreciate the reminders to prepare and serve up healthy snacks to their kids.
If it is one of these preparation notices, the gadget reminds the parent which kind of snack the child is supposed to take to school. It can be set up to represent several family members. The developers suggest keeping this device in the refrigerator. It includes "a feedback mechanism that is activated when someone opens and closes the fridge door."
As for the second device, how is this for a selling point?
To the best of our knowledge, there are no further studies that attempts to persuade users to not forget their sportswear promoting physical activity through notification reminders in this context.
In other words, researchers invented this unique electronic memo gizmo, to remind kids to take along their clothes and equipment when they venture out to play team sports. This, in turn, will encourage more active participation in physical endeavors, and childhood obesity will be incrementally reduced.
This item resembles not a refrigerator magnet, but a cabinet door hook. The report says:
The user interface of our system consists of simple smart devices with embedded screens and visual LED cues that provide important information to the users in the right place at the right time. The idea behind these smart devices is that they are normal objects…
When these inventions were reviewed by peers, they received high marks for comprehensibility, perceived effectiveness and clarity. The developers describe the stages of creation in great detail:
One of the most important characteristics is the use of visual cues. Even though sound cues (auditory notifications) were strongly suggested by developers during the design process, the use of the framework lead to the decision of avoiding such notifications. The main reason to avoid sound notifications is that this type of notifications can easily become overwhelming. Moreover, visual recognition memory is superior to auditory recognition memory. Furthermore, encoding messages in sounds is a difficult task; therefore, auditory notifications would have to present the full text of the notification to be effective.
They seem to have thought of everything! The system's six main parts are described: physical activity tracker, central database, notification generator, notification dispatcher, and the two actual objects that were created specifically for their roles. The report even shows the circuitry of the innards of the two devices, and names the suppliers of the components. This conforms with the basic scientific tenet that all experimental outcomes should be replicable, and smooths the way for anyone who cares to try.
The co-authors also lay out their aspirations, which include improving the system, aided by evaluations made by families using it at home, as well as additional assessments made by experts. They go on to say:
Furthermore, we will investigate how human activities are affected by this kind of smart device based notifications. Also, if users make responsible and proper use to achieve what smart devices pretend by adding new functionalities regarding persuasion and motivation focused on other domains of application, not only childhood obesity and overweight.
Your responses and feedback are welcome!
Source: "Smart Device-Based Notifications to Promote Healthy Behavior Related to Childhood Obesity, and Overweight," MDPI.com, 01/18/18
Photo credit: osseous on Visualhunt/CC BY