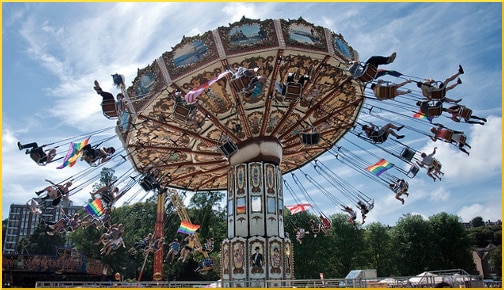 Because the United Kingdom is an English-speaking place with similar laws to the U.S.A. and a very familiar obesity problem, Childhood Obesity News has been tracking what goes on there. It is possible that awareness of how the Brits handle things could help America pick up some good ideas, or at least avoid predictable obstacles.
Brighton and Hove, although it sounds like a couple of different places, is actually the name of one city on the southern coast of England. It is a resort town, which may evoke visions of enthusiastically active kids partaking of many forms of exercise, but that is apparently not the case. It may or may not be pertinent that in the 2001 census, amongst all the main sections of England and Wales, this town had the highest percentage of people identifying themselves as followers of Jedism, a creed inspired by the Star Wars movies.
Inspired by the discovery that "almost one in five local four and five-year-olds was overweight" Public Health England created a program. Interestingly, this organization is mainly made up of food and drink industry representatives, which seems both counterintuitive and counterproductive to the purpose of helping kids avoid obesity.
Anyway, the rationale behind the Change4Life campaign (established in partnership with Disney and Sports England) was explained by Public Health England deputy director Angela Baker:
It is worrying that we are seeing so many more children leave primary school overweight than started, and we hope our Disney-inspired programme is one way of helping to reduce this… Any 10-minute burst of activity counts as a "shake up" and goes towards the hour of physical exercise each child should do each day.
In the same month, a member of parliament from South Shields, another coastal town but this time on the north side of England, wrote a column about the paradoxical conditions in the United Kingdom where "we have one of the worst records of food insecurity and child obesity — both forms of malnutrition." Pulling no punches, Emma Lewell-Buck wrote:
The harsh reality is, that the combination of low income and a food system which makes unhealthy food more convenient, attractive and frequently cheaper than healthy food, is toxic for children's health. It leads to children being overweight and obese, vitamin and mineral deficiencies, poor growth, development and poor mental health.
The people's representative scolded the current administration for trying to deprive school children of their free lunches, and brought up several other food-related matters that could, in her view, be handled much more effectively. There, as here, the social "safety net" unravels more with each passing day. In the demographic of kids under 15, about one in five is subject to food insecurity rated moderate or severe.
The lunch debate has been a real can of worms. The government announced that thousands of children would be added to the free school breakfast program. The only catch was, thousands would first be kicked off of the free lunch program. The Conservatives said they had science showing that breakfast helps kids just as much, but only costs one-tenth as much as lunch. Of course, celebrity chef Jamie Oliver got into the mix and called the cancellation of the lunch program a disgrace.
Your responses and feedback are welcome!
Source: "Health chiefs hope Disney-inspired plan will combat childhood obesity in Brighton and Hove," BrightonAndHoveNews.org, 07/17/17
Source: "Foodbank Britain: Is Malnutrition The New Normal?," HuffingtonPost.co.uk, 07/17/07
Source: "Jamie Oliver calls Theresa May's plan to scrap free school lunches a 'disgrace'," Independent,co.uk, 05/19/17
Photo credit: Andy Walker (Bear Clause) on Visualhunt/CC BY-ND