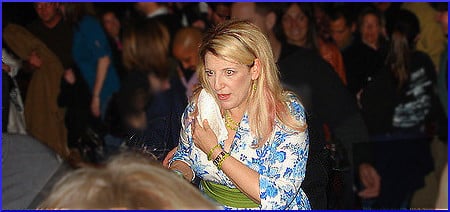 The homepage of a stage play called Stuffed asks a very important question which Childhood Obesity News has also pondered:
If Oprah, the most powerful person in the world, can't conquer her food issues, what can the rest of us do but laugh as we try?
The theatrical piece features four characters: a woman afflicted with bulimia, who binges and purges; a comfortable, confident overweight woman; a "permanent size zero" who is unable to gain weight; and a lifelong yo-yo dieter whose role is based on and performed by the playwright herself, standup comic Lisa Lampanelli.
Lampanelli came from a classic Italian family whose culture included the "food is love" trope. Lonely at college, she ate to self-medicate the feelings of isolation. She battled weight issues for decades, meanwhile establishing a career as a standup artist and a reputation for being steely, harsh and ruthless. A lot of defensive armor was necessary, as the male comics at her home club, led by the formidable Patrice O'Neal, roasted her relentlessly for being both female and obese.
In 2012, when her weight had reached almost 250 pounds, Lampanelli underwent gastric sleeve surgery. After the procedure, and two weeks on liquids, she tried for a while to survive on tiny amounts of her favorite carbohydrate-laden comfort foods. But the very low post-surgery nutrient absorption rate guaranteed that the tactic could not lead to good results. She joined the kale-smoothie and lean-protein brigade.
Previously, she had thought of bariatric surgery as the "easy way out." There turned out to be complications, including divorce — but with a twist. Reporter Barbara Hoffman wrote:
As for her ex-husband: Jimmy Cannizzaro had gastric-sleeve surgery several months after Lampanelli did ("He said he was waiting to see if I'd die on the table!") and lost 95 pounds. Once they stopped eating their feelings, she says, they realized they had little in common. So friendly was their 2014 divorce that she attended his next wedding.
Lampanelli discovered an advantage of weight loss to be the more economical price of standard-size threads, which don't cost extra, like plus-size clothing tends to do. She no longer feels compelled to buy expensive accessories to "hide behind." But, she revealed last year to The New York Times writer Jason Zinoman, she still spent 90% of her time thinking about food and body image.
As for the origin story of Stuffed, she told Zinoman:
I looked around and couldn't believe no one has written a show about women and eating. It's the biggest issue women have.
Also for The New York Times, Laura Collins-Hughes reviewed the play and found it unremarkable:
She's trying a kinder, gentler sisterhood approach. It's an awkward attempt, and so, unfortunately, is the show as a whole […] a patchwork of stand-up comedy and monologues only loosely sewn together… Still, there are some laughs here, some genuine pain and even a bit of insight.
Your responses and feedback are welcome!
Source: "Stuffed," StuffedPlay.com, undated
Source: "Lisa Lampanelli: Weight-loss surgery cured my yo-yo dieting," NYPost.com, 11/13/17
Source: "Body Image Issues? Lisa Lampanelli Knows the Feeling," NYTimes.com, 09/22/16
Source: "Review: 'Stuffed' Details Fights Women Wage With Their Weight," NYTimes, 10/14/16
Photo by Michael Lehet on Visualhunt/CC BY-ND