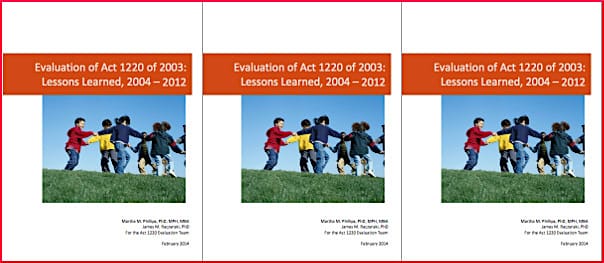 Back in 2003, by passing Act 1220, the state of Arkansas embarked on an extensive obesity prevention project that required collaboration among government institutions and many varieties of professionals who worked for the public education system. Anxious to be in from the start on such an ambitious undertaking, the Robert Wood Johnson Foundation put up the money for an "evaluation of the process and impact of the law's implementation." A research team designed the evaluation, and laid out the preparatory steps.
One of the original purposes was to provide body mass index (BMI) screenings for all students every year, and notify parents of the resulting scores. Objections came from many directions, including parents who were against the mandatory nature of the screening. That resistance was apparently based on a misunderstanding, because parents who did not want their children measured were allowed to opt out with no bad consequences.
Others objected to the cost of printing consent forms and mailing the test results to parents. Eventually, everything got underway.
The report, "Evaluation of Act 1220 of 2003: Lessons Learned, 2004-2012" is a downloadable PDF file, 40 pages in length, compiled from nine years of data. It is a massive resource, with pointers to other resources, as well the history of how all the parts fit together. There seems to be an awful lot of repetitive effort to "reinvent the wheel" in cities and states all over America.
Information about how one endeavor came into being is always helpful. Hopefully, other political and public service entities want to emulate success — and avoid pitfalls — when designing a program. To learn from the mistakes of others, as well as from their brilliant innovations, can obviously save lives, money, and time.
But that's not all
Along with the annual BMI screenings, the law also required schools to disclose their contracts with food and beverage companies, and to restrict the access of elementary school students to vending machines. On the bureaucratic side, each school district was to create a Nutrition and Physical Activity Advisory Committees with membership open to teachers, community leaders, and of course parents. Also, a Child Health Advisory Committee would be established to review the evidence as it came in, and recommend further refinements of the policies regarding nutritional standards and physical activity requirements.
In 2005, the Child Health Advisory Committee fulfilled its role by making additional recommendations. The new rules forbade the use of foods or beverages, including vending machine access, as "rewards for academic, classroom, or sport performances and/or activities" — a precept that Dr. Pretlow highly acclaims. Using edible or drinkable treats as a reward is always a mistake, whether done by teachers or parents.
The Committee tweaked the portion sizes of the vending machine offerings and required that fruits and fruit juices be as readily available as junk food. Schools were told that all students must have 30 minutes of physical activity per day, and new rules were made about Physical Education (PE) teacher certification and PE class sizes.
Like so many other things, the success of a far-reaching, large-scale program is multi-factorial. The report includes this paragraph:
The co-occurrence of these programs and initiatives supporting the implementation of Act 1220 require a cautious interpretation of evaluation findings. Changes in school environments, policies and practices, as well as any changes in individual or family behaviors that may be observed cannot be attributed solely to the influence of Act 1220. However, it is clear that Act 1220 was an early stimulus for child health activity, particularly school policy and environmental change…
The resulting changes are broken down into 10 discrete Lessons, which we will look at next time.
Your responses and feedback are welcome!
Source: "Evaluation of Act 1220 of 2003: Lessons Learned, 2004-2012," RWJF.org, Feb 2014
Image by Robert Wood Johnson Foundation; Fair Use