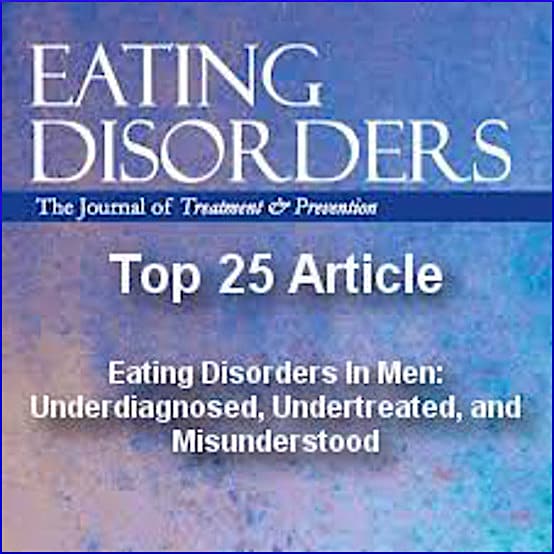 Recently, Dr. Pretlow learned that he has received an award from Eating Disorders: The Journal of Treatment & Prevention (EDJT). His article, "Addiction to Highly Pleasurable Food as a Cause of the Childhood Obesity Epidemic: A Qualitative Internet Study," was named one of the top 25 in the journal's history. Dr. Pretlow's contribution appeared in 2011, in Volume 19, Issue 4 of EDJTP.
When the history of this publication is mentioned, please understand that it encompasses more than 1,100 articles altogether. Since it began 25 years ago, that means an average of only one piece of writing per year was chosen. The entire list can be seen at Taylor & Francis Online.
EDJTP founder and Editor-in-Chief, Leigh Cohn, wrote:
As the Senior Editors and I retire, we decided to create this Top 25 Articles list as a way to look back at our years with the journal. The awards and Last Words from us are in Volume 25, Issue 5.
One of these Last Words is "Goodbye, Eating Disorders," written by Cohn, which relates how the journal was born and recalls some of the startling revelations that the job brought to light. It came as something of a surprise, for instance, to learn how many men struggle with eating disorders, since traditionally (and stereotypically) this type of problem has registered on the public consciousness as a predominantly female issue.
In what might be a slightly bemused tone, he says, "Inadvertently, I found myself at the epicenter of the eating disorders community." Over the ensuing quarter of a century, that community has grown amazingly, and the growth was not free of conflict.
Cohn writes:
I began to question the validity of treatment and prevention studies, because I would sometimes hear terrible things about certain doctors, even though they were highly respected in academia as authors and speakers. Individuals shared horror stories about certain experiences at treatment facilities that were considered state of the art. Conversely, someone else would declare that they recovered under that same doctor or treatment center.
Before saying goodbye, Leigh Cohn introduces the new co-editors-in-chief. One is Catherine Cook-Cottone, a psychologist who is also an associate professor at the State University of New York in Buffalo. The other is Leslie Karwoski Anderson, Director of Training and a Clinical Associate Professor at UC San Diego's Eating Disorders Center, whose expertise lies also in editorial matters.
As if all this were not significant enough, here is the impressive part: "The three of us have spent two years on this transition…" Many human-led enterprises could benefit from such careful preparation.
Another feature of the current issue of EDJTP is the four-part farewell authored by all the senior editors, including Arnold E. Andersen, M.D., and Margo Maine, Ph.D. Like any specialized field, obesity can be a small world, and founding Senior Editor John P. Foreyt has crossed paths with Dr. Pretlow before, at a conference two decades in the past.
Dr. Pretlow says:
Dr. John Foreyt, a psychologist and Director of the Behavioral Medicine Research Center at Baylor College of Medicine in the US, spoke about the psychological causes of obesity. After his talk I asked Dr. Foreyt, "What percent of the causes of obesity are psychological?" He replied "99%." I was shocked by his answer.
That excerpt is from Dr. Pretlow's opening remarks while chairing a symposium at the World Congress of Psychiatry in Berlin last month.
Dr. Pretlow sees obesity as primarily a psychological problem that resembles an addictive process to the point where it can be successfully treated by the same modalities that work for people hooked on hard drugs. He supports the application of addiction-model methods for treatment of disordered overeating and obesity.
Your responses and feedback are welcome!
Source: "Goodbye, Eating Disorders," tandfonline.com, 11/06/17
Source: "Eating disorders: A 25-year perspective," tandfonline, 11/06/17
Image: Fair Use