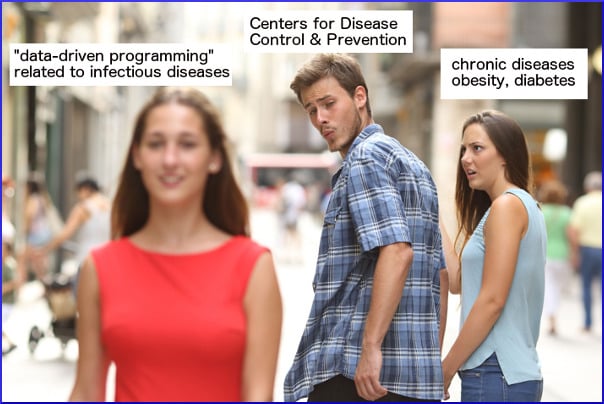 Childhood Obesity News mentioned the internal White House document that suggested that the Centers for Disease Control (CDC) should place chronic conditions like obesity and diabetes on the back burner, and give its attention to infectious diseases, which can be efficiently kept track of via "data-driven programming."
The memo, described as the administration's "wish list," originated with the Domestic Policy Council, and was sent to the Office of Management and Budget to aid in determining where to add or take away federal funding. It slams the World Health Organization in a shocking manner:
WHO is a corrupt, hostile bureaucracy that achieves no actual capacity in countries.
More than 40% of the recipients of help from the federal SNAP, or "food stamp" program, are children. Sadly, the Domestic Policy Council wants to mess with that program in a major way. The object is to slice $193 billion from SNAP outlays over the next 10 years, and make the states pay for 25% of the remaining need, which means they will cut other programs (or raise taxes) to make up the difference.
The Center of Budget and Policy Priorities says:
This proposal would severely undercut one of the nation's most effective anti-poverty programs and risk resurrecting serious problems that our country has largely solved — severe hunger and malnutrition.
It would also create a huge obstacle for families who try to feed their kids with fresh vegetables and fruits, rather than the low-nutrition processed foods that contribute so noticeably to the childhood obesity epidemic.
At present, the food assistance numbers break down to only $1.40 per person per meal, so the consequences will not be pretty. Larger households, with more children, will experience proportionately larger reductions in the amount of food money they are allotted.
Attacking from every direction, the federal government also wants to begin collecting fees from the 260,000 retailers participating in the SNAP program, which would cause a lot of them to simply drop out.
To quote the Center of Budget and Policy Priorities:
Some smaller stores, non-traditional retailers such as farmers' markets, and stores operating in less lucrative markets may be deterred… Public and private efforts to address food deserts by encouraging and providing incentives to stores in underserved areas may be disproportionately affected as these retail efforts often operate on razor-thin margins, and the additional cost of an application fee could pose a real threat to the viability of these projects.
Another national effort, the Healthy Start program, concentrates on providing adequate prenatal care including housing, psychosocial support, and of course nutrition (including education on the benefits of breastfeeding.) Healthy Start has taken root in 37 states and grown 100 projects.
A typical program was created in San Antonio, where 65% of the adults are overweight. A three-year federal grant aims at improving physical education and nutrition in the Northside Independent School District (NISD), where 30% of students have a high Body Mass Index and 16% are affected by Acanthosis Nigricans, the skin discoloration that presages type 2 diabetes.
NISD has been able to provide nutritional education, additional opportunities for physical recreation, and after-school programs with more of the same. But the infamous Domestic Policy Council memo claims that Healthy Start "has been proven not to contribute to improved outcomes for disadvantaged children," and goes on to say:
Childhood obesity: this is a priority of the Secretary for inexplicable reasons. Whatever has been designated to it should probably be reversed. Not a priority of this administration.
Your responses and feedback are welcome!
Source: "Leaked memo reveals White House wish list," Crooked.com, 10/19/17
Source: "The Trump White House Policy Wish List," Scribd.com, undated
Source: "Administration's 2018 Budget Would Severely Weaken and Cut the Supplemental Nutrition Assistance Program," CBPP.org, 07/19/17
Source: "Healthy Start: Food, Fitness, Fun!," undated
Image: Modified Internet meme