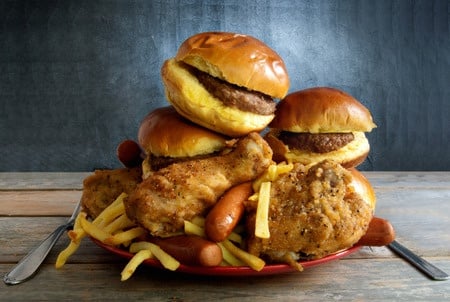 Earlier this month, for the World Congress of Psychiatry conference in Berlin, Dr. Pretlow chaired a symposium on "The applicability of addiction-model methods for disordered-overeating and obesity intervention." His co-chair was Caroline Davis, Ph.D., of York University in Toronto. Some of her areas of interest are highlighted in the program's Abstract:
Compulsive overeating has many clinical parallels with conventional substance-use disorders, including an increasing feeling of "loss of control" even in the face of adverse consequences.

In addition, a recent body of research has demonstrated psychobiological similarities between substance-use disorders and compulsive overeating…

Both conditions are also strongly linked to a high-risk ("addictive") personality profile characterized by impulsive responding, anxiousness, and depression-proneness.
Dr. Davis has been spontaneously told by many patients that sugar is the worst, and, like Dr. Avena, sees it as a potential addictor. She notes that DSM-5 offers 10 classes of substance disorders, because they have differences and really can't be all lumped together, but still, compulsive eating is not among them.
The type of overeating that looks like addiction shares many characteristics with hard-drug dependency, including intense cravings for the substance and an inability to manage one's own behavior, even when it leads inexorably to poor outcomes. The ability to make sensible decisions gets all messed up.
In life, future consequences matter, but you'd never know it from observing the doings of a crack addict or a chronic binge eater. Some call drug addiction a "chronic relapsing disorder," and binge eating is certainly that too.
In her talk, Dr. Davis discusses the research mentioned in a previous Childhood Obesity News post. She also mentions the danger of hedonic or highly palatable foods which are designed to be irresistible, and can indeed institute a process that looks and acts very much like classical addiction.
The following excerpt is from a recent publication by Dr. Davis and five other authors:
It is important to note that impulsivity is highly pervasive in many aspects of psychopathology as highlighted by its association with 18 psychiatric diagnoses in the Diagnostic and Statistical Manual of Mental Disorders — Fifth Edition… In isolation — and similar to the presence of anxiety — it is therefore a fairly non-specific risk factor for a myriad of mental health disorders.
Given all these resemblances, it is no wonder that many researchers believe it makes sense to classify compulsive overeating as a food-use disorder (like any other substance-use disorder) and even as an addiction. In summation, Davis emphasizes that according to both therapists and patients, compulsive overeating can be successfully treated with addiction-based methods.
THERE IS STILL TIME TO DO HALLOWEEN DIFFERENTLY!
Halloween Advance Strategy
Halloween — There Is Still Time
Halloween — Distract and Divert
Experiment with Halloween
My Halloween, by Curly: a Suggestive Fiction
Your responses and feedback are welcome!
Source: "Theoretical basis of addiction-based treatment methods for compulsive overeating based on quantitative and qualitative RCT results," WPABerlin.com, 2017
Source: "Binge Eating Disorder (BED) in Relation to Addictive Behaviors and Personality Risk Factors," ResearchGate.net, April 2017
Image source: pixelbliss/123RF Stock Photo