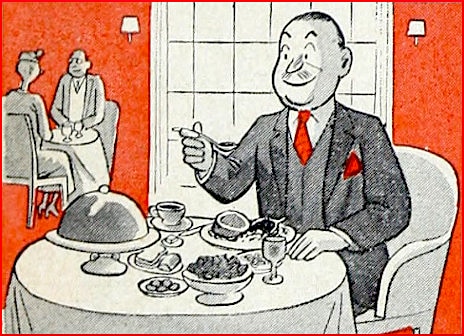 In a series of posts, Childhood Obesity News examined the premise that something is missing from the latest edition of the Diagnostic and Statistical Manual of Mental Disorders (DSM-5). The gap is where the existence of food addiction should be acknowledged in some form, going under some name.
But it doesn't seem to be there. In the "substance use disorder" department, food isn't named as a substance prone to disordered use.
Substance use disorder is an interesting term. Such a malady entails "negative consequences of continued and frequent use." As addiction takes hold, the negative consequences multiply and solidify.
Frequently, overeating causes the negative consequence of obesity, which would seem to imply that overeating should be considered an eating disorder, or a behavioral addiction, or something. And even, possibly, that food can be an addictor, even if it's only some foods, for some people, under some circumstances.
While DSM-5 noticeably shies away from using the word "addiction," it does allow for "substance use disorder" and "substance induced disorder." A number of arguments can be made for why disordered overeating could be either one of those.
One useful thought experiment would be to look at the end product and reverse-engineer it. Alcoholics, hard drug addicts, and obese people all seem to get better results from 12-step programs than anything else discovered so far. That they all benefit to such a degree could indicate that alcoholism, hard drug addiction, and disordered overeating are all basically the same phenomenon.
ASAM has a say
The American Society of Addiction Medicine (ASAM) publishes guidelines which include reflections on terminology. Their definition of addiction describes the inability to consistently abstain, or to control one's behavior, or to recognize how being hooked on the substance or behavior makes all of life's problems worse.
The definition includes dysfunctional emotional response cravings, cycles of relapse, and addiction. It's a lot like what happens in disordered overeating. Also, addiction is progressive, and quite likely to end in disability and/or premature death. Again, that's a lot like the obesity and associated co-morbidities summoned up by disordered overeating.
ASAM President Dr. Stuart Gitlow wrote an editorial that said:
We applaud DSM-5 for using the term "addictive disorders" within its overall framework. DSM-5 does not, however, speak to addiction but rather to some of the markers seen with addictive illnesses…

Ultimately, the definitions in DSM-5 are definitions for a new set of illnesses. They have different terminology and are accompanied by new defining structures…

Now it's up to us to remember that addictive illness is still addictive illness; it remains unchanged despite the arrival of DSM-5…
DSM-5 has a section on "Feeding and Eating Disorders" which includes anorexia and bulimia, but not disordered overeating or obesity. But DSM-5 is strangely silent on the addictive potential of edible products, and also about the most prevalent eating disorder on the planet, the one that nobody seems able to get a handle on.
Announcement
Next month, Dr. Pretlow will attend the World Congress of Psychiatry, held in Berlin, Germany, October 8 through 13. He will speak on the topic, "Specific addiction-treatment methods for obesity with trials data, including audio clips of subjects describing feelings around overeating and experiences using addiction treatment methods" and chair a symposium whose subject is "The applicability of addiction-model methods for disordered-overeating and obesity intervention."
Your responses and feedback are welcome!
Source: "Definition of Addiction," ASAM.com, undated
Source: "Commentary: DSM-5: New Addiction Terminology, Same Disease," DrugFree.org, 06/07/17
Photo credit: Internet Archive Book Images via Visualhunt/No known copyright restrictions