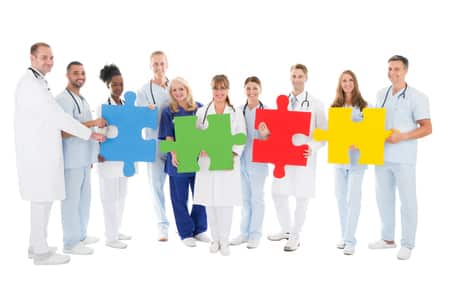 The concept of a one-size-fits-all solution to obesity has pretty much vanished. Fortunately, the multi-disciplinary solution has stepped up to make some sense out of the whole mess. Late in 2013, the Obesity Society, American Heart Association and American College of Cardiology teamed up to publish a set of guidelines for doctors, to help them manage overweight and obesity in adults.
In order to glean the most current recommendations, 133 recent studies were examined. The subtitle of Nanci Hellmich's article expresses the conclusion succinctly:
New guidelines say that there is no ideal diet — whatever works to help obese patients lose 5%-10% of their body weight.
Committee co-chair Donna Ryan told the reporter that the objective is "to get primary care practitioners to own weight management as they own hypertension management." If such help were available everywhere and all patients could afford it, the ideal program would be "delivered by trained interventionists (not just registered dietitians or doctors) for at least 14 sessions in the first six months and then continue therapy for a year."
Of course these intensive therapeutic resources are not available to everyone. But many people, Ryan says, can benefit from phone- and web-based interventions, and even from commercial weight-loss programs. Just like with individual reactions to foods, it's different strokes for different folks. There are satisfied customers enough to endorse just about anything, because they sincerely believe it worked for them, even if some other dynamic was in play.
An interesting innovation
South Dakota State University has designed a program especially to produce desperately needed childhood obesity experts. It is based on the premise that:
The cause of childhood obesity is multifaceted and strategies to prevent and treat it need to be transdisciplinary.
It pulls from the Health and Nutritional Sciences department, whose students include aspiring nutritionists, registered dieticians, athletic trainers, occupational therapists, physical therapists, community and public health administrators, PE teachers, and managers and administrators in sports and recreation.
Graduate students in any of those fields have the choice to go after a TOP certificate, which stands for Transdisciplinary Childhood Obesity Prevention. The faculty includes experts who introduce additional perspectives from early childhood education, nursing, counseling, and statistics.
As a corollary, the program teaches that there is no one-size-fits-all solution to obesity, because its answers are drawn from "evidence based transdisciplinary approaches to prevention." According to the program's literature:
Experiences gained as a TOP student will prepare graduates for collaborations with individuals in other disciplines in a career aimed at reducing childhood obesity…. Students will obtain a TOP program certificate upon completion of the requirements for both the certificate and the Masters or Doctoral degree from their respective college.
Your responses and feedback are welcome!
Source: "Doctors urged to treat obesity like any other ailment," USAToday.com, 11/12/13
Source: "Transdisciplinary Childhood Obesity Prevention (TOP) Graduate Certificate Program," SDState.edu, undated
Photo credit: andreypopov/123RF Stock Photo