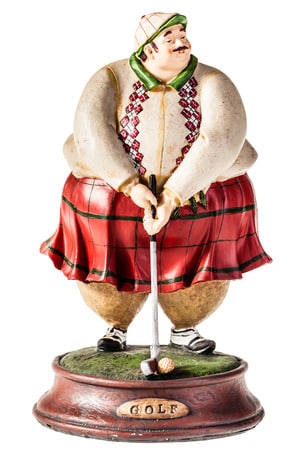 Although Scotland, like Great Britain, Northern Ireland, and Wales, is part of the United Kingdom, its National Health Service (NHS) operates independently. Scotland's NHS currently spends £600m (or close to $800 million in American dollars) per year to treat overweight and obese patients. An obese patient tends to cost the health care branch of government twice as much as a normal-weight patient.
To put it another way, as did Prof. Lina Bauld of Stirling University, two-thirds of Scotland's grownups are overweight, placing them significantly in the majority. And kids between ages 2 and 15? About a third of them are overweight, and 17% are actually obese.
Journalist Mark McLaughlin writes:
The food and retail industry has thus far refused to engage meaningfully with the problem — and still tempts children with tasty treats during prime-time TV, and entices adults into gluttony with three-for-two, "can't afford to miss" mega deals on calorific-laden convenience foods that most of them don't even want, need or can afford.

Some experts think it's time for the gloves to come off and we need to get tough with retailers and their apologists who use cherished human rights like personal choice, privacy and freedom of expression to sell cheap junk to poor people who often lack the finances and capacity to resist.
However, the proposed solutions are not attractive. For instance, just as in the United States, the "loyalty card" system allows grocery stores to retain records of everything a customer buys. Why not pass that information along to a government bureau empowered to contact the family and scold them about consuming all those chips and 39.4 liters of dipping sauce?
Some say this is awfully Big-Brother-ish, but McLaughlin has researched opinions on the concept:
Smoking is fast becoming an antisocial activity, and is therefore fair game, but eating so much that you make yourself ill is somehow seen as a personal choice and off-limits for doctors and regulators.
In Scotland, as everywhere, life is often a matter of "two steps forward, one step back." Although Scottish teenagers have cut back on their soda intake, one-third of them eat sweets every day.
Child and Adolescent Health Researcher Dr. Jo Inchley told a reporter:
The reductions in consumption of sugary drinks among young people in Scotland is good news, however further action is required to reduce their sugar intake, particularly in light of the wide range of sugar-sweetened drinks now available and actively marketed to children and adolescents.
As always, Big Food and Big Beverage insist that reduced sugar in products, and the upcoming sugar tax, will be enough to mend everything. But others — especially if they happen to be sugar industry lobbyists — feel that "fixating on particular commodities" is an ideological error.
A corporation does not mind shouldering the blame for bad policy, as long as fellow corporations are made to share that blame. And, perhaps more in Scotland than elsewhere, the public resents being told what to do by the "nanny state."
Your responses and feedback are welcome!
Source: "Scotland's obesity epidemic," Holyrood.com, 04/24/17
Source: "Scottish youths eating more sweets than rest of the UK," TheCourier.co.uk, 05/17/17
Source: "Almost 50 per cent of Barking and Dagenham's 10-11-year olds are obese or overweight," yellowad.co.uk, 05/10/17
Image by porpeller/123RF Stock Photo