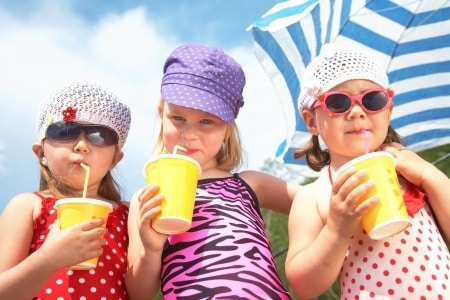 "Venturing and Emerging Brands" is what the Coca-Cola Company calls its department in charge of discovering the next billion-dollar proprietary formula. Each year, Coke and its many sister corporations bring 500 new drinks to market, all in search of a solid and lasting hit. They are known by many names, such as "value-added water," "functional beverages," and the slightly creepy "emerging beverages."
Fanciest of all are "Performance Lifestyle Brands" whose characteristics Neil Martinez-Belkin described as follows:
From high pH alkaline waters like AQUAHydrate, Alkaline88 and Essentia, to oxygenated types like Penta and Reliant Recovery Water, to CORE Water, which boasts a "perfect pH", there's a range of different purported benefits and functionalities under the "premium hydration" subset…
Throwing words around
Coke acquired Honest Tea, which expanded into Honest Kids, touted as lower-sugar, organic juices which are "just a tad sweet." In a roundup of "21 Healthy Drinks for Kids Besides Water," MomJunction.com does not mention the brand at all. However, MyKidNeedsThat.com rated Honest Kids in its top five, although the product mostly supplies Vitamin C, a nutrient not that difficult to acquire.
Then, there are Honest Sport drinks, at 100 calories per bottle. Apparently, for a drink to qualify as an energy booster sugar is required. For an industry publication, Martin Caballero learned from executive Seth Goldman that:
In creating the beverage, the company made sure Honest Sport met all the requirements included in the American College of Sports Medicine's (ACSM) definition of a sports drink… The addition of around 23-24 grams of Fair Trade certified organic cane sugar to each SKU was part of meeting the ACSM's requirements…
The product's electrolytes come from potassium citrate and sea salt, and lemon juice is present in all three flavors as an acidifier. Writing for The Washington Post, Casey Seidenberg called Honest Sport "awfully high in sugar."
Coke is the longest continuous sponsor of the Olympic Games, whenever and wherever they are held, reaping boundless opportunities to promote its ever-multiplying brands. Originally, sports drinks were invented to nourish hardcore athletes, actual Olympians who train for hours every day and sweat buckets. Their radically depleted bodies are suitably replenished by the designer beverages.
Seidenberg points out:
But here's the thing: The elite athlete market is tiny, and our kids, even the most athletic ones, are not part of it… Kids do not lose vitamins when they sweat, so Vitaminwater and vitamin-enhanced drinks are unnecessary… Sodium is the most common electrolyte lost in sweat, yet most Americans get more than enough sodium from their diets.
Going by ingredients alone, it is often a challenge to differentiate a sports drink from soda. The American Academy of Pediatrics says children and teens should take it easy on the sports drinks, and imbibe plain water instead.
Seidenberg adds:
Water paired with a banana, orange or clementine is undeniably a better choice than any sports drink. These fruits are higher in potassium and many other minerals and vitamins than commercial drinks.
Your responses and feedback are welcome!
Source: "Risk and Reward: Coke's Venturing & Emerging Brands Unit Pursues 'Next Big Thing' in Beverages," Coca-ColaCompany.com, 08/15/16
Source: "From Vitaminwater's Roots, Many Branches," Bevnet.com, 10/21/15
Source: "Honest Revamps Organic Sports Drink Line," Bevnet.com, 02/24/17
Source: "Sports drinks aren't 'recharging' your kids. They're just pumping them full of sugar," WashingtonPost.com, 07/26/16
Photo credit: yanlev/123RF Stock Photo