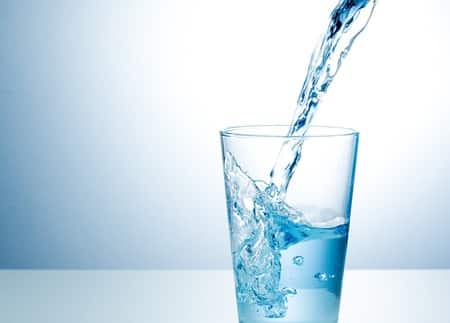 Childhood Obesity News continues to explore some of the ways that humans have invented to adulterate nature's perfect liquid. Strangely, criticism of "value-added water" is not as easy to find as might be expected. The idea that water is inadequate to the task of hydration has become normalized. What is wrong with us humans that we are incapable of appreciating plain water?
When someone enjoys eating cat hair or shattered glass they are displayed on television in the present-day equivalent of a freak show. Yet millions of people willingly drink water spiked with additives that may or may not achieve any positive ends. Supposedly, the amounts are too small to do any harm — which is also what medical science used to think about thalidomide.
Functional beverages
Again, when it comes to functionality, what could be more functional than water? It probably does more jobs than any other substance on earth, but the advertising experts have appropriated the word "function," which now seems to indicate that a beverage provides something other than mouth pleasure and calories. A functional beverage might contain "plant sterols, grape seed extract, all-natural super-fruit, Acai, folic acid, calcium, fiber, gingko biloba and D-ribose, glucosamine and chondroitin sulfate…"
Here is a definition from a company that exists solely to create more varieties. (See the page for an eyeful of brand package designs):
Functional beverages are beverages that have an immediate and obvious effect on the person who is consuming the beverage. Caffeine is the most common functional ingredient, think about it, you drink it, you wake up and you feel better quickly, highly FUNCTIONAL.
Actually, that sounds kind of illicit-druggy. Back on topic, this one business entity, Power Brands, has helped to create beverages advertised as promoting relaxation, energy, health, weight management, immunity boosting, digestion alertness, detoxification, sleep, and joint health. It is even suggested that energy potions can help parents who lose sleep to a teething baby.
Another source article describes how functional drinks are utilized by those in the "millennial" demographic:
Managing stress, combating fatigue, weight loss, and maintaining eye health, given their extreme use of digital tools, are among their top concerns… The belief that functional foods have the ability to replace some medications is a belief held by Millennials more than any other consumer group.
Weight management? Really? Whether because of a busy lifestyle or the desire to slim down, using these drinks as meal replacements is a big trend. One product contains protein, fiber, and 3,000 mg of Omega-3 oils. One paper revealed that the main weight loss ingredient in functional beverages was caffeine, but, in all fairness, it was published seven years ago. Hopefully, some better discoveries have been made by now.
A thick, costly, and more recent book (March 2016) titled Handbook of Functional Beverages and Human Health includes an entire chapter on the role of functional beverages in weight management. Garcinia cambogia, chromium, green coffee bean extract, green and oolong teas, linoleic acid, fenugreek, chitosan, glucomannan, calcium, caffeine — each popular additive gets its own section.
Your responses and feedback are welcome!
Source: "Functional Beverages," PowerBrands.us, undated
Source: "Functional Foods, Beverages, and Ingredients in Athletics," NSCA.com, Feb. 2010
Photo credit: chagin/123RF Stock Photo