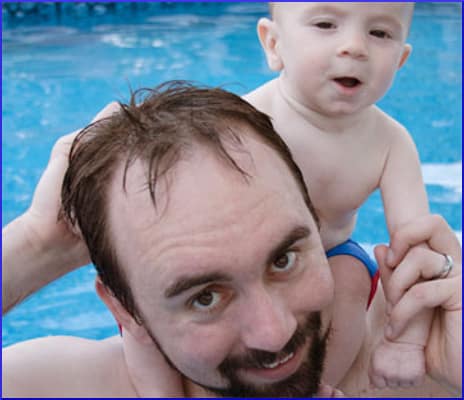 Historically, the discussion of childhood obesity has tended to focus mainly on mothers, but over the past couple of years it has expanded considerably. Still, to the exclusion of boys, we mainly hear about the father-daughter dynamic in such articles as "Daddy's little girls: How do fathers influence body image?"
In a survey conducted in 2014 among the general online public, 87% of the respondents confirmed that fathers are "very important" to the self-images formed and carried by their children. When fathers were asked if they, specifically, in their paternal roles, have a big influence over their children's self-image, 78% of the dads said yes.
But this seemed to be contradicted by another question, about who has more influence over a child's body image. Only 9% said the father, while 53% said the mother exerts more influence in the area of body image.
When asked whether their own fathers had influenced their body images, one-quarter of the respondents answered, "Yes, in a bad way." The rest were equally split between positive influence and no influence at all.
The last question, addressed exclusively to dads, inquired, "Do you try to teach your daughters to ignore society's messages about beauty?" A resounding 77% of fathers affirmed that they do indeed try to help daughters insulate themselves from the harmful strictures of public opinion.
Obviously, several things are going on here. Primarily, what people self-report to media surveys and what they do in real life is not always in alignment. Also, there seems to have been a generational improvement, with current adults feeling negative or doubtful about the effect their fathers had on their minds, while at the same time aspiring to do better for their own children.
Anecdotal weirdness and academic science
The search for individual stories, known by scientists with a more strict technical bent as "anecdotal evidence," turns up some sad memories. In a recollection that has apparently since been removed, Reddit contributor MagenaH told of being raised by parents who believed that sweet fruit would prevent their child from demanding candy, a belief that turned out to be correct.
But as a tween-ager, the writer had a young friend whose mother had died, and who was being raised by her father. This unfortunate child was so repelled by the junk food in her home that she resorted to bringing over a box of toaster snacks to trade with MagenaH's father for a bag of oranges.
A recent story reported on a National Institutes of Health study showing that children with obese fathers tend to "struggle in social situations and may find it harder to make friends." Sarah Knapton wrote:
It is the first study to look at how a father's weight at conception can influence the development of youngsters… Children of obese fathers were 75 percent more likely to fail the test's personal-social domain — an indicator of how well they were able to relate to and interact with others.
Childhood Obesity News has written of discoveries in the relatively new field of epigenetics showing that obesity can be passed along by obese men through modifications of the DNA in their sperm, along with stray "short pieces of RNA." These modifications affect how active various genes are, by switching them off or on.
The Victor Chang Cardiac Research Institute found that "compared with the offspring of lean males, both the sons and grandsons of the obese males were more likely to show the early signs of fatty liver disease and diabetes when given a junk food diet."
Happy Father's Day to the dads who consciously try to have a positive influence on their children's self-images, and to those who make the effort to supply healthful, nutritious foods while keeping junk food out of the home. Also, our good wishes go out to men who conscientiously bring their own habits and weight under control before conceiving children. But mainly, we wish a joyous Father's Day to all dads, everywhere.
Your responses and feedback are welcome!
Source: "Daddy's little girls: How do fathers influence body image?," Today.com, 02/25/14
Source: "Obese fathers may harm their child's ability to make friends," Telegraph.co.uk, 12/30/16
Source: "Obese grandfathers pass on their susceptibility to junk food," NewScientist.com, 07/18/16
Photo credit: Liz Davenport (lizdavenportcreative) via Visualhunt/CC BY