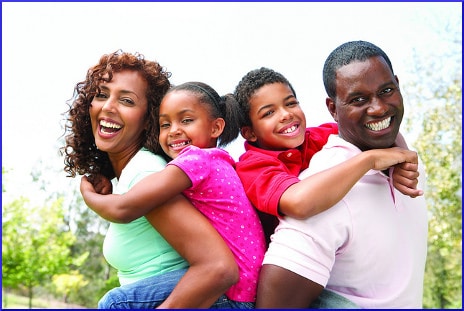 In studies of pediatric obesity where only one parent is allowed to participate, in only 6% of the cases is that lone parent the father. There seems to be more effort made to recruit mothers, under the assumption that they are the primary caregivers in every instance. Intentionally or accidentally, fathers are left out.
This comes from Australia's University of Newcastle, where lead study author Philip Morgan told journalist Lisa Rapaport:
Of the limited research investigating the reasons why fathers are less likely to participate in parenting programs, key barriers appear to include competing work commitments, reduced awareness of programs or their unique and important role, reluctance to participate in "mother-dominated" environments and a lack of programs that are designed specifically for dads.
Morgan adds that when two parents are present, it is, of course, very important for their philosophies and actions to be in harmony. In the ideal situation, both parents model the desired behaviors and practice similar parenting styles with rules and expectations that are in accord.
In 2008, one in every four European children was obese, and, only two years later, that proportion had risen to one in every three. Consequently, there is a widespread conviction that something must be done. Nicole M. King describes a new Danish/American study which "makes it quite clear that children are physiologically prone to obesity if they are born in a fatherless home."
Previous studies have looked at families that broke up after trying to make a go of it, but, apparently, a child suffers from separation anxiety even when his or her father has never lived in the same home. Comparisons were made with children from conventional families with both parents present.
Kids who never lived with their fathers, when they get to the 9-11 year range, are twice as likely to be overweight and three times as likely to be obese. King explains:
What is new about this study focusing on Danish children is its focus on children whose parents were already separated at the time of their birth. Quite plausibly, the researchers interpret their findings as evidence of "a fetal programming effect due to prenatal moderate stress exposure."
Researchers from the Universities of Copenhagen and Kansas formulated this biochemical explanation:
Early parental separation may be a stress factor causing a long-term alteration in the hypothalamic-pituitary-adrenal-axis activity possibly impacting on the susceptibility to develop overweight and obesity.
The bad news here is that any government entity interested in ending the childhood obesity epidemic must concentrate not only on nutrition and good habits, but on somehow convincing men and women to raise their children together, which is kind of a tall order.
Father's influence starts early
Thanks to nutrition and dietetics expert Adam Walsh of the Royal Children's Hospital, the Deakin Institute for Physical Activity and Nutrition undertook a study to learn how a father influences his first-born child's relationship to food. As it turns out, children as young as 20 months "already take cues from their father's intake of sugary snacks, takeaway foods and soft drinks." Whether or not fathers realize it, the behavior they model matters a lot, whether it is sitting down for a family meal or shunning green vegetables.
Fathers would do well to step up and acknowledge their role model status, because otherwise they miss a prime opportunity to help form a child's healthy taste and habits. Journalist Jemma Ryan says of Walsh:
His advice is to lead by example by setting a context around when treat foods are appropriate and, where possible, assist with meal preparation to help spark the child's interest with food, cooking and nutrition.
Your responses and feedback are welcome!
Source: "Few dads take part in trials of obesity treatments for kids," WHBL.com, 01/28/17
Source: "Missing fathers, swelling waistlines," MercatorNet.com, 02/16/17
Source: "Deakin University research shows dads influence kids' dietary behaviour," GeelongAdvertiser.com, 04/30/17
Photo credit: Army Medicine via Visualhunt/CC BY