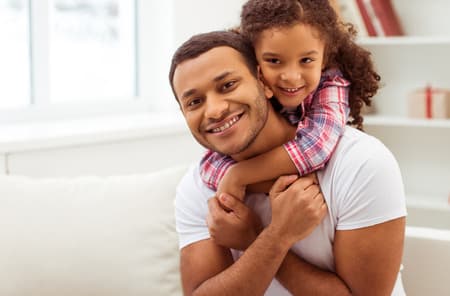 Early-onset puberty seems inextricably linked to obesity, and for some reason, absent fathers are linked to early-onset puberty. As always, correlation does not necessarily guarantee causation, but a girl growing up in a fatherless household is twice as likely to start menstruating before age 12. This precocity is in turn connected to higher risk for depression, adult obesity, type 2 diabetes, and breast cancer.
Obviously, the most important thing a father can do is be present. But even that is not a panacea, because influence also includes negative influence, and plenty of girls and women have paternal horror stories to tell.
Up until quite recently, thanks to a number of assumptions about cultural norms, there were not many father/child interaction studies. In early 2014, one was done in Victoria, Australia that, while it didn't achieve much, took note of how previous studies seemed to indicate that young children of active fathers are apt to be more active themselves. Also, there had been signs that fathers demonstrably taking part in weight loss and fitness regimes were more likely to have children with good eating habits.
Another article, this one by Kerry Hubartt, added more detail to the overall picture. About one-third of American children, or 24 million, live in homes without their biological fathers.
Of course, there is nuance in the situation. Just because a man is the biological father of kids he lives with, there is no guarantee that any genuine caring or involvement is taking place.
Also, stepfathers and other types of male presences can be very positively involved. One way or another, the National Fatherhood Initiative believes that children with involved fathers "do better across every measure of child well-being than their peers in fatherless homes."
The U.S. Census Bureau found that "children in father-absent homes are almost four times more likely to be poor. In 2011, 12 percent of children in married-couple families were living in poverty, compared to 44 percent of children in mother-only families." Other statistics show that children in homes without fathers also face higher risks of child abuse, drug and alcohol abuse, and childhood obesity.
Concerning fathers who stay, research from Johns Hopkins Bloomberg School of Public Health has found that when they actively engage in such early childcare tasks as meal preparation, feeding, bathing, and dressing, their children are less likely to be obese at ages 2-4. Conversely, when fathers are uninvolved during infancy, the childhood obesity risk increases.
While some healthcare professionals see this as a call for encouraging greater paternal involvement, others shake it off, saying that a two-parent home is generally more stable and more economically secure, and those factors alone are enough to make a significant difference. If indeed there is less obesity among children with present fathers, some experts attribute that to the fact that fathers are more likely to encourage physical exercise, while discounting the effects of the more nurturing types of activities.
Your responses and feedback are welcome!
Source: "Fathers Matter: More Evidence on their Importance," Independent.org, 06/28/16
Source: "The effect of an early childhood obesity intervention on father's obesity risk behaviors: the Melbourne InFANT Program," BioMedCentral.com, 02/14/14
Source: "Fathers can make a world of difference," News-Sentinel.com, 06/20/15
Source: "Kids Less Likely to Be Obese When Dad Is Active Parent," MedPageToday.com, 11/04/17
Photo credit: georgerudy/123RF Stock Photo