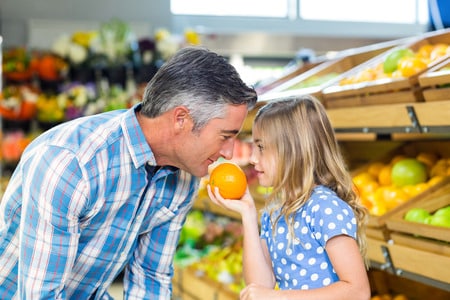 While discussing epigenetics, Childhood Obesity News has mentioned Eric Boodman before. He said:
It isn't just our genes and our parenting that determines the health of our children: it could be our lifestyle, too.
This warning came from Boston's Joslin Diabetes Center, which has been learning more and more about how a father's physical condition influences a baby. Epigenetic markers reveal that dads and their eating patterns can have previously unexpected effects on babies, even before conception.
This connection shows up in various ways. When a man has bariatric surgery and loses a massive amount of weight, his sperm even look different that they did before. It appears that epigenetic changes, which trigger gene expression, may carry over into succeeding generations. Although it requires very complicated and highly structured studies, scientists are currently exploring why and how that happens.
A man's consciousness that his lifestyle choices might echo through the generations is a heavy burden to bear. However, a tool exists to help a prospective father change his life for the better, and any male who contemplates fathering a child could begin right now to optimize that child's chances for a long and healthy life.
Yes, it was designed for kids, but there is no earthly reason why it can't benefit a grownup even more, because adults own certain types of experience and motivation that are not available to children. We recommend the W8Loss2Go program and smartphone application to any potential father who wants to prepare by getting into the best physical, mental and emotional shape before conception actually takes place. The perfect time to start is now.
Other paternal news
A few years back, the Journal of Nutrition Education and Behavior published a study by Texas AgriLife Research which showed that lenient fathers are more likely to buy fast-food meals for their children, and stricter fathers are more likely to insist on full-service restaurants when the family eats out.
The study was somewhat longitudinal study, encompassing 15 months. One of its conclusions was, of course, that "The only instances of mothers being more lax on the use of fast-food restaurants are those who are neglectful and those who are highly committed to their work." Another was that fathers need to be better educated in nutrition.
A short time later, the University of Alberta released the results of a metastudy that used data from 135 studies, and determined that the early markers "most consistently associated with or predictive of adult obesity" include childhood growth patterns, childhood obesity, maternal body mass index, and father employment.
Father employment is what they call a "proxy measure for socioeconomic status." It is not clear whether the researchers meant that working fathers are more likely to have overweight kids, on account of being able to afford food; or whether employed fathers are more likely to have overweight kids because they are cared for by irresponsible mothers who take them to fast-food outlets rather than to sit-down restaurants.
Your responses and feedback are welcome!

Source: "A father's sperm could predict whether his child will be obese," StatNews.com, 12/03/15
Source: "Dads more likely than moms to impact childhood obesity," ScienceBlog.com, 06/09/11
Source: "Early Childhood Factors ID'd for Predicting Adult Obesity," DoctorsLounge.com, 12/29/11
Photo credit: wavebreakmediamicro/123RF Stock Photo