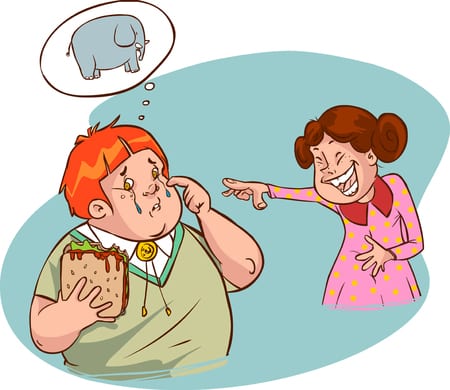 For Mic.com, Mathew Rodriguez complied a list of "7 Studies That Prove Fat-Shamers Are on the Wrong Side of Science." For starters, humans have an obesity gene called FTO which, according to a Harvard/MIT study, can probably program immature cells to become either brown fat (the kind that burns calories) or white fat (the kind that just sits around and gives us a bulky look), and there is currently nothing we can do about it.
Food insecurity is a big problem in our society. Even when good fresh produce and other healthful foods are available (which is not always the case), many families go for the stomach-filling processed pseudo-foods because they cost less.
Rodriguez says:
The data show that the less access a child had to food, the higher the child's body mass index was, and that kids from households with very low food security had a higher obesity prevalence rate than the national average of 18.4%.
Every day, the gut microbiome gains more recognition as a player in the obesity game. The bacteria that live inside us like tenants in a boardinghouse seem to have quite a lot of power, and science is just at the first tentative edge of discovering the multitudinous secrets lodged among our intestinal villi. At the moment, the only certainty is that we really need to pay attention to our inner bugs because, tiny as they are, they just might have the upper hand.
The eldest sibling in a family has an increased risk of obesity — by a factor of as much as 40%, according to a Swedish study, and, again, there is nothing we can do about our birth order. The probability of obesity for the firstborn seems to apply to male children as well as females. Also, it has been shown that the stress of being considered overweight can drive people to eat even more; and the more overweight a person is, the less likely it is that she or he will ever achieve normal weight.
Researchers in Copenhagen discovered that "losing even one night of sleep can alter our genes and affect metabolic processes, including the way we process sugar." Lastly, weight discrimination (including fat-shaming and bullying) definitely exacerbates the problem.
Art
Actor Leonard Nimoy was also a photographer, and one of his photo suites depicts the very opposite of fat-shaming. "The Full Body Project" commemorates a group of women performance artists who formed a burlesque troupe known as the "Fat Bottom Revue." In some of the pictures, the composition deliberately imitates famous paintings. The limited edition black and white photos were hand printed by Nimoy in his own darkroom.
In the "Artist's Statement" for the gallery he wrote:
I hear comments, which lead to questions. The questions lead to discussions — about beauty, social acceptability, plastic surgery, our culture and health. In these pictures these women are proudly wearing their own skin. They respect themselves and I hope that my images convey that to others…

These women are projecting an image that is their own. And one that also stems from their own story rather than mine. Their self-esteem is strong… They will tell you that too many people suffer because the body they live in is not the body you find in the fashion magazines.
Your responses and feedback are welcome!
Source: "7 Studies That Prove Fat-Shamers Are on the Wrong Side of Science," Mic.com, 09/17/15
Source: "Leonard Nimoy — The Full Body Project," RMichelson.com, undated
Photo credit: corbacserdar/123RF Stock Photo