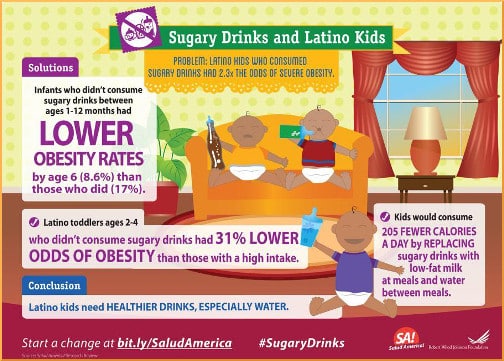 Dictators have it easy. A tyrant only needs to say, "Do it" — and await the results, backed up by paddy wagons and prison cells dedicated to convincing dissenters to see the error of their ways. In a free country, getting people to do what is good for them is not so easy. This is especially true with health matters, which are by their very nature often quite private. When encouraging the desired behavior seems likely to step on cultural toes, the difficulties multiply.
Childhood Obesity News has mentioned MALDEF, a legal organization interested in preserving civil rights that is backed by the Robert Wood Johnson Foundation. MALDEF has observed that Mexican American and African American kids are more likely than white kids to suffer from both obesity and diabetes.
The sociological conditions responsible include food insecurity and other consequences of economic inequality. The group works hard to educate legislators at every level of government.
Here is a frightening fact of American life. Among women of Hispanic ancestry, the fourth most prevalent cause of death is type 2 diabetes. That's the kind people don't need to get, the kind that can be prevented, slowed, and in some cases, reversed. Nevertheless, the Centers for Disease Control predicts that, of all the Mexican American children born since the millennium, 50% — that's half of them — will develop type 2 diabetes.
In December, Salud America!, a national obesity prevention network that focuses its efforts on the Mexican American population, issued a report that featured bad news. Spokesperson Rosalie Aguilar told the press:
For Latino kids in particular, we know that they start drinking sugary drinks at a very young age. Nearly 70% of children by the age of 2 have already consumed a sugary drink, compared to only 45% of the non-Latino white population.
The results do not take long to show up. The kids who are drinking even one sugar-sweetened beverage (SSB) per week are more than twice as likely already to be obese by the time they start kindergarten.
A CDC survey revealed that, not surprisingly, children consume increasing amounts of SSBs as they grow older. Here is a breakdown:
Based on a percentage of total daily calories, black children consumed the most (7.9% for boys, 8.9% for girls), but only slightly more than white children (7.6% and 7.5%), who were followed by Hispanics (7.3% and 6.8%). The study found Asian children drank almost half as much as the top three groups (3.5% and 3.6%)
Perhaps the most alarming conclusion from that study is, when all the races are averaged out, American teenagers of whatever variety apparently get almost 10% of their total daily calories from sugary drinks. If accurate, this is appalling.
Your responses and feedback are welcome!
Source: "Sugary Drinks Add To Latino Childhood Obesity Risk," TPR.org, 12/05/16
Source: "Alarming number of kids are slurping down sugary drinks, survey finds," USAToday.com 01/26/17
Image by Salud America!