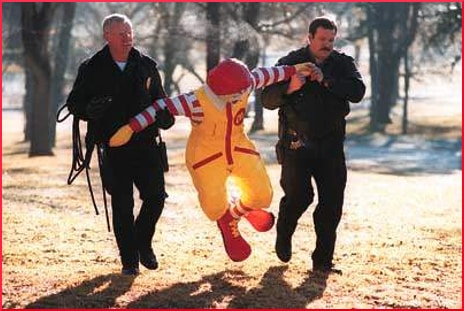 Recently, in describing a fat removal process that may or may not actually do anything, we noted that the dismally inept use of the English language on the company's website cast a penumbra of shade on the product. Astonishingly, examples of the same trust-eroding negligence can be found in many corporate pronouncements.
This is Steve Easterbrook, the CEO of McDonald's: "With regards to Ronald, Ronald's here to stay." These are the words of another McDonald's spokesperson:
Nothing has changed in regards to his public appearances… He appears at our restaurants and other community events when invited to spread messages on important topics such as safety, literacy, anti-bullying and the importance of physical activity.
In the first example, the correct expression is "with regard to." In the second example, the correct expression is "in regard to." No letter "S" in either case. Also, a restaurant is not an event. A restaurant opening is an event; a restaurant is not.
Why does any of this matter? Because the word "literacy" appears in the above paragraph. Part of literacy is knowing such things. Not only are these people trying to sell us something, they also hope to convince us of several doubtful propositions. Here's the rub: If they don't even know how to speak the language, what else don't they know?
The comeuppance of a clown
Ronald McDonald, the corporation's grotesque clown mascot, has been around since 1963. Some people had reservations about him from the start, but he really began to attract unfavorable attention in this century. In 2010, an organization called Corporate Accountability International cited childhood obesity as the reason Ronald should retire — but he didn't.
In 2012 the American Academy of Pediatrics released news of a disturbing experiment. The subjects, well over 3,000 young people, were shown still photos from commercials that had been edited specifically to remove logos and other obvious clues. Yet, in many instances, they unerringly identified the fast-food brands responsible for the ads. The study showed that their ability to do this correlated positively with their individual degrees of obesity.
The report illustrated how advertising gets all up in our heads, and the implications were far-reaching. People who had never really minded Ronald before started to pay attention.
The following year, Michele Simon published "Clowning Around with Charity: How McDonald's Exploits Philanthropy and Targets Children." It drew a frankly ugly picture.
Here is a brief little appetizer of a quotation:
While McDonald's gets 100 percent of the brand benefit from Ronald McDonald House Charities, the burger giant only provides about 20 percent of its funding globally. At the local level, it's closer to ten percent, with some of that money coming from donation boxes at McDonald's outlets, that is, from customers.
How about this bombshell — "McDonald's spends almost 25 times as much on advertising as on charitable donations." And its charitable donation total is one-third lower than is typical for a giant multinational corporation.
Simon accuses the outfit of breaking its promise not to carry on marketing in schools, and of using charity as a shield to distract critics from an honest assessment of its deplorable business practices. Apparently, every bit of "giving back" that McDonald's brags about is just a labyrinth of smoke and mirrors.
Your responses and feedback are welcome!
Source: "Ronald McDonald has kept low profile long before clown scare," ChicagoTribune.com, 10/13/16
Source: "Why Ronald McDonald Will Never, Ever Get Fired," TIME.com, 05/21/15
Source: "Fast Food TV Ad Familiarity Linked With Obesity In New Study," HuffingtonPost.com, 04/30/12
Source: "Clowning Around with Charity: How McDonald's Exploits Philanthropy and Targets Children," EatDrinkPolitics.com, 10/29/13
Photo credit: atennies94 via Visualhunt/CC BY-ND