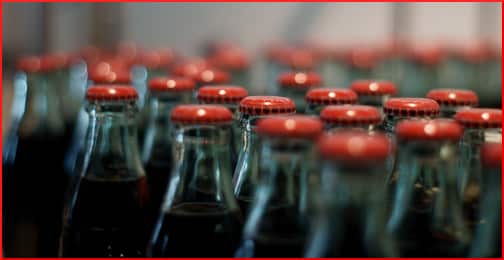 Usually, news on the sugar-sweetened beverage beat is a boring succession of the same old outrage fodder. The industry will fudge scientific reports, take advantage of local economic conditions, invade brains with the most advanced and insidious advertising techniques, and so on.
Last fall, that routine took a turn, when TIME magazine reported that French authorities discovered 800 pounds of cocaine in a Coca-Cola manufacturing facility. Apparently the contraband was hidden amongst a shipment of orange juice from South America.
A couple of days later, the regional president of Coke gave a statement that employees had already been cleared, which is speedy police work where an alleged $54 million worth of product is involved. Oddly, there seems to be no subsequent reportage on the incident, and no word on whether anyone was charged or convicted.
Nik Bonopartis, writer for Opposing Views, hypothesizes that the stash might be connected with accusations that Coca-Cola hired Colombian terrorists to assassinate labor leaders and human rights activists.
On a lighter note
Meanwhile, the World Health Organization (WHO) was urging governments to tax soda and other sugary drinks. WHO has a lot of resources at its disposal. By means of a meta-review, it set out to learn what policies result in better diet and the most efficient prevention of lifestyle diseases (i.e., obesity and diabetes):
The evidence was strongest and most consistent for the effectiveness of sugar-sweetened beverage taxes in the range of 20-50% in reducing consumption.
WHO's objective, of course, is to reduce suffering and save lives, and also to reduce the costs of health care. Not surprisingly, the International Council of Beverages Associations issued a stern refutation:
We strongly disagree with the committee's recommendation to tax beverages, as it is an unproven idea that has not been shown to improve public health based on global experiences to date.
PepsiCo informed the public that 63% of its sales resulted from water, juice, and snacks — not sugar-sweetened carbonated beverages. This was a misdirection strategy, because juice and snacks certainly contain plenty of sugar and other harmful ingredients. The company also issued statements indicating that it would significantly reduce the sugar in its soft drinks by 2025.
Why on earth is this date almost 10 years in the future? Does it really take so long to fine-tune the ponderous machinery of production to simply out in less sugar? It's as if Pepsi is competing with Coke to be the poster child for the Promote Child Obesity While Pretending to Care club.
Your responses and feedback are welcome!
Source: "Police Found $56 Million Worth of Actual Coke at Coca-Cola Factory," GrubStreet.com, 09/02/16
Source: "Colombia: Coca-Cola Financed Terror Group," OpposingViews.com, 09/02/16
Source: "Tax Soda To Fight Obesity, WHO Urges Nations Around The Globe," NPR.org, 10/11/16
Source: "PepsiCo Promises to Cut Product Calories and Sugar to Help Fight Obesity," Yahoo.com, 10/17/16
Photo credit: Alan Stoddard via Visualhunt/CC BY-ND