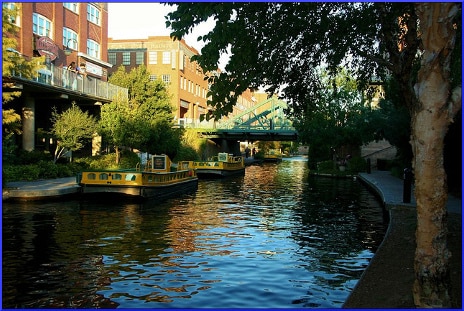 In Oklahoma City, Mayor Mike Cornett led the people to undertake what was described as a war on fat. Before looking at more of the fascinating information collected by journalist Ian Birrell about the nuts and bolts of that campaign, let's digress for a moment and reflect on semantics.
Some Americans are tired of all the Wars on Everything, and wish that activists and the press could branch out and employ some other metaphor to name things. A sentence in this article illustrates the problem:
The battle is being done with, rather than against, the fast food industry and soft drinks manufacturers…
Despite some objections of the "sleeping with the enemy" variety, the city leaders seem able to elicit cooperation and sponsorship from businesses, which is great, but does it have to be that they are allies in a war? Even a sentence that begins with a more neutral framing, finishes up with bellicose terminology:
The experiment is unusual in terms of its ambition, breadth and cost, all of which take it beyond anything being attempted by other American cities in the fight against fat.
Also like a war, there has to be triage, which practices the art of resource allocation to accomplish the greatest possible amount of good. In a makeshift hospital next to a battlefield, someone has to decide whether to pour copious time and energy into saving a few badly wounded victims, or to use the supplies and the staff's time to patch up a larger number of troops who are less seriously hurt.
These practical aspects have to be sorted out, to get the most bang for the available buck. In OKC, some municipal districts needed more help than others, as explained by Birrell:
Six years ago the city started poring over all available data to find its least healthy zip codes, discovering that some disadvantaged parts suffer five times as many deaths from strokes and cardiovascular conditions as wealthier areas. This led to the redirection of funds to places most in need.
Here is another example of how closely the combat paradigm is followed:
Overweight people are targeted at home and at work to alter their lifestyles…
Why "targeted"? Targeting is what the advertising industry rudely does to demographic groups it has researched, and maybe the good guys would do better to think in terms of addressing people, instead. Although, to be fair, the writer also describes the program as "relying largely on persuasion instead of coercion."
For more depth on the persuasion angle, Birrell consulted the City-County Health Department's Alicia Meadows, who held the office of Director of Planning and Development. She described the outreach team of eight people who go out and mingle with the crowds at events where ordinary city residents tend to show up.
In the overwhelmed neighborhoods where the data show that help is most clearly needed, the department understands the importance of meeting people where they are. An outreach worker from the same ethnic community may even go door to door distributing information and asking people about their needs. Meadows told the reporter:
We make it clear we don't want to see their papers; we know many are undocumented. But their health impacts on the city's health… If you direct significant resources into areas of greatest health inequalities, we think you make the biggest difference.
Next: More about the amazing transformation of Oklahoma's capital city.
Your responses and feedback are welcome!
Source: "The fat city that declared war on obesity," MosaicScience.com, 10/13/15
Photo credit: Raymond Bucko, SJ (kiszka king) via Visualhunt/CC BY