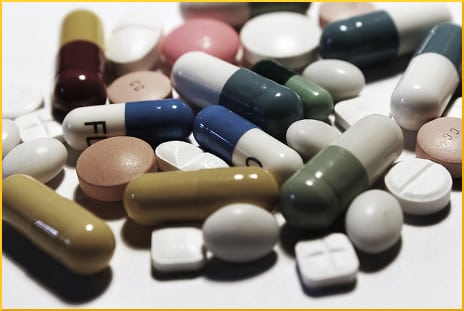 Before returning to the general subject of long-term, sustainable weight loss let's just tidy up a few loose ends about the place where obesity intersects with chemistry. As previously mentioned, claims made about anti-obesity drugs need to be carefully examined. Many researchers and clinicians are wary of these pharmaceuticals because they have not been tested for very long on the kinds of people who need them the most, the patients already suffering from one of more co-morbidities.
In mid-2013, there were three major products in the fat-fighting business — Xenical (from Roche), Belviq (from Arena Pharmaceuticals) and Qsymia (from Vivus). Orexigen's Contrave was not yet approved. The focus of WallStreetDaily.com is obvious, so the intimate details of corporate finances are discussed:
For instance, Vivus experienced an abandonment rate of 30% when it first launched in September, "likely because of sticker shock from those not covered by insurance." Belviq, made available in June, isn't covered by most health plans, which is part of the reason some analysts think it got off to a slow start.
Journalist Karen Canella went on to say:
Bottom line: No matter how we choose to prevent and treat obesity, the real battle has just begun. The fact that insurance companies must help fund the fight could prove to be the biggest wildcard behind this super-sized trend.
Both Belviq and Qsymia had only been approved the previous year, in quick succession, after more than a decade during which the Food and Drug Administration did not see fit to give its blessing to any weight-loss meds. Journalist Landon Hall notes that both drugs carry side effects "severe enough that the FDA initially rejected them."
Hall says:
The trick is convincing skeptical physicians, and patients, that they work well enough, and that they're safe enough, for long-term use.
Hall's piece traces the history of weight-loss drugs, which we won't spoil by recounting here. However, if birth defects, a multi-billion dollar lawsuit, hallucinations necessitating DEA approval, and yucky embarrassing accidents all sound interesting, this article is recommended.
It also quotes a corporate spokesperson explaining how Belviq messes with hormonal receptors to provide an enhanced feeling of satiety. Hall writes:
According to clinical trials, 47 percent of patients on the medication lost at least 5 percent of their body weight during the course of one to two years…
That does not seem like much. Say, the person originally weighed 300 pounds. They take this pill, and two whole years later they weigh 285. Is that enough to justify the expense and side effects of a drug? Granted, a 15-pound loss is an achievement, it's not nothing. But bear in mind, 23% of the control group got the same result from a placebo.
Sometimes a person's weight will fluctuate 15 pounds one way or the other due to random reasons like holidays or absent-mindedness. To ascribe results to the wrong cause is rarely a way forward. Caution is always a good policy.
Your responses and feedback are welcome!
Source: "Three Ways to Profit From a Super-Sized Trend," WallStreetDaily.com, 07/13
Source: "Rival obesity drugs seek out patients, and acceptance," OCRegister.com, 06/20/13
Photo credit: e-MagineArt.com via Visualhunt/CC BY