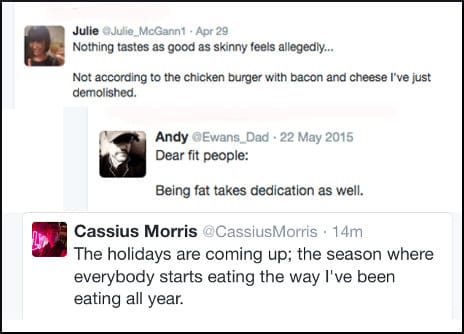 As a coping mechanism against irritability, anxiety, stress, depression, mood swings, or any other emotional pain, eating gets very low marks, and is known as a maladaptive response.
It fails to accomplish the mood stabilization goal, and instead makes everything worse.
Laughter, on the other hand, appears able to reverse the stress response chemically, as measured by blood levels of various crucial molecules. As a mechanism for stress reduction, it does wonders. Various studies have shown that laughter can bolster the workings of the immune response, perform as an analgesic, and benefit the cardiovascular system.
In their paper, "Laugh Away the Fat? Therapeutic Humor in the Control of Stress-induced Emotional Eating," Elizabeth S. Bast and Elliot M. Berry wrote:
We propose that humor may be tried as a new tool in the therapeutic arsenal for those who are dependent on food to manage their moods, or who have pathologic eating habits such as binge eating disorder. Humor has been shown to be a useful coping strategy, and, like hedonic eating, is hypothesized to be associated with the release of endorphins…

Other benefits of humor may also include a reduction in boredom, which may be another major cause of non-metabolic physiologic eating.
The first thing to know is, funny isn't foolproof. Researchers who examined a very small and distinctive subgroup of humanity (Finnish police) found that the individuals with a greater sense of humor tended toward tobacco smoking and obesity.
The second is that "answers" would be too strong a word for what the research has uncovered. There are hints and indications, and many intriguing pathways wait to be explored. For instance, the ability to generate humor can be taught. Humor is being used in psychotherapy to help manage depression, but does not seem able to do as much for patients trapped in anxiety.
Chasing the elusive
Some people just see things differently, and part of that difference includes the ability to create emotional distance, which is a major coping technique. A battlefield medic with a couple of amputated legs to deal with can't pause and search for words to express appropriate empathy, or reflect over the wasted potential that has vanished from a young soldier's life.
Bast and Berry found that "an important buffering effect was noted when those who viewed sad stimuli were able to use humor to prevent negative affect." In other words, research confirms our collective folk wisdom around the public servants known as first responders. In the best case, they learn to create a layer of psychic armor for themselves, and even come up with a positive spin. (No legs? The guy will never have to face the moral dilemma of whether or not to wear leather shoes.)
This ability to mentally distance the self from the situation is known to correlate highly with a sense of humor, and it is why frontline emergency workers cultivate grim — or "gallows" — humor in order to retain their sanity.
The authors say:
Despite the complexity of eating behavior, because emotion may play such an important role in people's eating habits and behaviors — especially if they are "emotional eaters" — we hypothesize that influencing the way emotions and anxiety are managed could have positive effects on eating behavior.
Humor has been shown to have numerous positive physiologic effects, one of the strongest of which is helping people cope with stress, even people who don't find it easy to laugh off their problems. We therefore hypothesize that strategic and purposeful use of humor may provide a useful tool for those individuals in whom stress and anxiety trigger eating of highly palatable foods. The hope here is that humor will continue to be investigated and integrated into therapy, especially, as the authors suggest, "among obese people with stress-induced emotional eating problems."
Your responses and feedback are welcome!
Source: "Laugh Away the Fat? Therapeutic Humor in the Control of Stress-induced Emotional Eating," rmmj.org, Jan. 2014
Images sources (Twitter, from top): @Julie_McGann1, @Ewans_Dad, @CassiusMorris