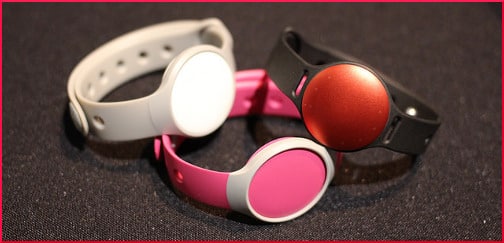 It is possible that some grownups still haven't shopped for holiday gifts for children, so here are a few interesting things about fitness trackers, which enjoy a degree of popularity among the health-promoting products known as "wearables." Something like 70% of children are classified as "inactive," which does not bode well for the abolition of childhood obesity.
Often, the possession of a gadget will inspire a person to take 10,000 steps every day. Of all the fitness trackers sold, about one-third of them are given as gifts.
Adidas executive Stacey Burr stresses the importance of stimulating people's desire to move more, and, in particular, their willingness to stick with it. The company makes a heart-rate monitor that is worn on the wrist, for kids, and various other kinds of wearable sports electronics, like sensor-based clothing.
Also, as reported by Adam Lashinsky:
Burr says educators have found correlations between more activity and better attendance, behavior, and academic achievement.
A writer known as Leigh Stark asks:
But what if you don't want to be tracked, or what if the people wearing the devices shouldn't be tracked by a digital system?
Katherine Pace of the Australian company Elanation says that kids younger than 13 are not included in the terms of service specified by adult "fitness solutions." Kids are an underserved population whose need for age-appropriate and cyber-safe wearables is now being met by her company. In this brand of fitness device, made for kids ages 5-12, the chat capability is limited to pre-programmed messages composed or approved by the parent figures, much some brands of talking dolls.
In other words, gullibility and lack of discretion can't put the child at risk. Kids can't unwittingly share confidential information, or send regrettable pictures.
Also, the Elanation ETurbo wearable is said to connect with the online world in a better way, "with no GPS tracking or sharing of locations either incidentally or accidentally." This keeps the child from being located by malevolent strangers or non-custodial parents.
The product description tells how the bracelet rewards kids based on activity. The more energy they expend in real life, the more energy their avatar gains in a game:
ETurbo does track footsteps and heart rate, monitoring only these and linking this information to an online world kids can play around with…

For every 1000 steps taken in the real world, ETurbo allows kids entry into a digital community on the iPhone or iPad featuring video content, tips from sports stars, and more…

This digital community also features a game or two, and […] the in-game character is directly impacted by real-world activity…
The safe and protected environment is a big selling point, and another attractive feature is the relative lack of bells and whistles, like geolocation. The battery life improves vastly, and the device allegedly only needs to be charged once a week or so.
Coincidentally, Australia was one of the sites (along with the U.S. and the U.K.) of a survey of almost 10,000 customers, a survey that revealed the sad truth about fitness trackers. Whether they are bought by their intended users, or as gifts, either way about one-third of them are abandoned.
Reasons given by the study subjects were breakage, lack of utility, and boredom. Reporter Chuck Martin says:
Consistent with other studies, the Gartner survey found that consumers see wearables as being priced too high, given their perceived usefulness.

In yet another negative, fitness trackers and smartwatches are not appealing to consumers from the standpoint of design.

People younger than 45 tend to think a smartphone can do everything they need.
Your responses and feedback are welcome!
Source: "This Is the Compelling Science Behind Fitness Trackers," Fortune.com, 11/02/16
Source: "Australian fitness gadget made to get Aussie kids moving," Pickr.com, 11/24/16
Source: "Fitness Tracker Abandonment Rate: 30%; Smartwatch, 29%," MediaPost.com, 12/08/16
Photo credit: Maurizio Pesce (pestoverde) via Visualhunt/CC BY