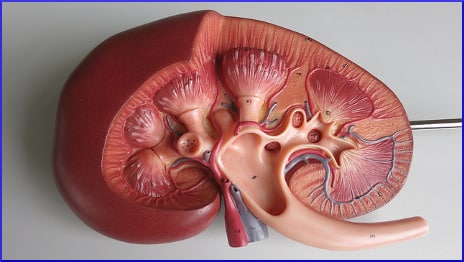 Why? Because any serious encounter with childhood obesity just might involve the kidneys at some point. Contrary to the comforting notion that co-morbidities are far away down the road, renal problems don't necessarily build up slowly or wait for years to strike.
A 2014 study of 242 subjects determined that close to one-fifth of severely obese adolescents have poor kidney function. According to the study:
Seventeen percent of the teens had protein in their urine, which is an early sign of kidney damage. In addition, 7 percent had indications that their kidneys were working too hard, and 3 percent showed evidence of progressive loss of kidney function… Those with reduced insulin sensitivity were more likely to show signs of progressive loss of kidney function.
The report from Cincinnati Children's Hospital Medical Center noted that this is a connection, and not necessarily a cause-and-effect situation.
In the following year, obesity in children was confirmed to be associated with renal injury, as manifested by obstructive uropathy and diabetic nephropathy. Doctors have not customarily looked for tubular damage markers in children, but now increasingly find them when they look, which is a good idea because generally, renal disease associated with obesity is "insidious and asymptomatic."
Earlier this year, Lauren Sausser reported the Children's Hospital of Philadelphia's examination of another problem that doctors are not used to seeing in young people:
Kidney stones were once considered a painful condition afflicting mostly white, middle-age men… But new research, based on patient records from 153,000 South Carolinians, shows kidney stones are increasingly common among adolescents, females and blacks…

Some cases require surgery, but many patients muddle through with painkillers and a prescription to drink plenty of water.
The study was led by pediatric urologist Dr. Gregory E. Tasian. This new trend is especially distressing because kidney stones are mainly detected by means of the CT scan. But that involves radiation, and for children, teens, and women of childbearing age, exposure to radiation should be minimized. Also, this condition can in extreme cases require surgery, which is never good news for anyone.
Regarding the probable causes of the increase in nephrolithiasis, Dr. Dennis Kubinski of Charleston's Kidney Stone Center told the journalist that kids today take in too much sodium, but insufficient amounts of calcium. In particular, they don't drink enough water. Dr. Kubinski added:
A lot of that has to do with processed food — potato chips, fries […] even sports drinks that kids are getting are very high in sodium.
Your responses and feedback are welcome!
Source: "Severe Obesity in Teens Tied to Possible Kidney Problems," HealthDay.com, 04/25/14
Source: "Early markers of obesity-related renal injury in childhood," NIH.gov, January 2015
Source: "Kidney stones on increase in women, kids, blacks," PostAndCourier.com, 1/13/16
Photo credit: John Campbell (jlcampbell104) via Visualhunt/CC BY